DRILL HALL OF FAME
QUICK LINKS

HISTORICAL INFLUENCES


- Baron Friedrich von Steuben

- John "Black Jack" Pershing &
the Pershing Rifles

ORGANIZATIONS &
THEIR GUIDING FORCE
- The United States Army Drill Team &
(The Old Guard)

- The United States Marine Corps
Silent Drill Platoon

- Mr. Paul Naki & The King's Guard

- The National High School
Drill Team Championships &
Sports Network International

- Mr. Constantine H. Wilson &
New Guard America

SCHOOLS & INSTRUCTORS
- MGySgt Douglas Dunlapp &
Fern Creek High School

- CMSgt. Frank Killebrew &
Oxon Hill High School

- Major Greg Mikesell &
Black Watch Drill Team
Winston Churchill High School

- LTC James Rose &
The Riderette Drill Team
Theodore Roosevelt High School

- SGM Johnny Snodgrass &
the Belles of the Blue Knights Drill Team

- CDR Armando Solis &
Flour Bluff High School

INDIVIDUALS
- Abdul Al-Romaizan

- 1stSgt. Christopher Borghese
2013 INDUCTEE OF THE MILITARY DRILL HALL OF FAME
LTC James Rose & the Riderette Drill Team
from Theodore Roosevelt High School

LTC (ret.) James E. Rose was used to long days and pressure situations long before his Army JROTC career began. Serving one tour in Korea and two in Vietnam, LTC Rose left the active-duty Army with a Silver Star, Combat Infantry Badge, Legion of Merit, Bronze Star Medal with Oak Leaf Cluster and Meritorious Service Medal with Oak Leaf Cluster. But then he took control of the Theodore Roosevelt Drill Program in 1982, the magic soon followed and that magic was historic in both it's scope and its total domination.
"I loved my time in the U.S. Army, however teaching JROTC was more rewarding," stated LTC Rose. "You really get to see young people mature and become responsible citizens. A young freshman joins and develops into a young man or woman. Drill is a big part of this maturation. Drill to me, is the most import subject we teach. Competitiveness, discipline, and self-assurance are all gained from drill".
His love of drill as a tool was only outdone by his love of the cadets who excelled under his leadership. We was relentless in his pursuit to drill by the manual and without question, NHSDTC Competition Director Justin Gates learned a great deal about the nuances of drill and the military manuals from some of the long discussions held with this amazingly knowledgeable and approachable figure. His gift was his ability to not only spot areas for improvement put put forth teaching instruction that made all involved feel like they were PART of the solution. This gave the drill teams under his command a bond that made the teams stronger and want to work harder than any other teams in drill. This showed in their near domination of the sport for over a decade.
At the NHSDTC, the Riderettes unarmed drill team placed first, six out of seven years. The foundation he laid was exceptional and resulted in three more national titles after his retirement. A personal favorite story remembered by many at the NHSDTC was the year when LTC Rose overheard a conversation some of his competitors were having grumbling that "the only reason they win is those damn red jackets". So in true LTC Rose style, his amazingly talented team wore their standard class A uniform in EVERY EVENT to include exhibition. The result you ask? They STILL convincingly won the overall title and most every event they competed within!
Along with the numerous state titles and Distinguished Unit awards his program earned annually, it was his love of military drill and his understanding of the tools that drill gave his young people to compete in the world long after their JROTC days were behind him that made his efforts truly GREAT! The great rivalry between Roosevelt and Winston Churchill HS help to drive their teams to excel.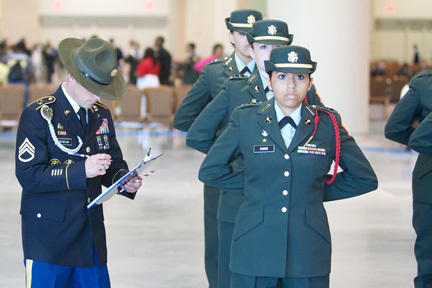 While not inducted into the DHOF (yet!) the armed San Juan Guard drill team placed first, four out of seven years, and second, two other years during that same amazing run! LTC Rose was without a doubt a driving force in the early maturation of the Nationals to become the premiere event it has become today. His exactness and attention to even the smallest detail, combined with the cadet led nature of his program teaching leadership and excellence to all who were a part of the program, were the hallmarks he left for all to follow. The domination and overall love of the NHSDTC event and the sport of competition drill was a driving force in his life after active duty, and in the lives of the cadets who thrived in his program and beyond. It remains a HUGE honor to host LTC James Rose in the military Drill Hall of Fame.