DRILL HALL OF FAME
QUICK LINKS

HISTORICAL INFLUENCES


- Baron Friedrich von Steuben

- John "Black Jack" Pershing &
the Pershing Rifles

ORGANIZATIONS &
THEIR GUIDING FORCE
- The United States Army Drill Team &
(The Old Guard)

- The United States Marine Corps
Silent Drill Platoon

- Mr. Paul Naki & The King's Guard

- The National High School
Drill Team Championships &
Sports Network International

- Mr. Constantine H. Wilson &
New Guard America

SCHOOLS & INSTRUCTORS
- MGySgt Douglas Dunlapp &
Fern Creek High School

- CMSgt. Frank Killebrew &
Oxon Hill High School

- Major Greg Mikesell &
Black Watch Drill Team
Winston Churchill High School

- LTC James Rose &
The Riderette Drill Team
Theodore Roosevelt High School

- SGM Johnny Snodgrass &
the Belles of the Blue Knights Drill Team

- CDR Armando Solis &
Flour Bluff High School

INDIVIDUALS
- Abdul Al-Romaizan

- 1stSgt. Christopher Borghese
2012 ORIGINAL INDUCTEE OF THE MILITARY DRILL HALL OF FAME
Major Odell Graves

When looking back on the history and influence of military drill, the best measure of a JROTC is often mistakenly focused on how many titles they garnered or consecutive years with top five finishes or city championships or the like. Our next DHOF member certainly has powerful drill credentials, amassing over 350 meaningful trophies during his 29 year JROTC career, but to say this was the measure of this man would be a huge mistake.
Never in the history of the National High School Drill Team Championships had a single instructor garnered so much positive email and phone call traffic from past cadets. Many of these former cadets would contact event manager SNI just to see how Major Graves was doing, if the team will still attending the Nationals, and the like - and then they would regale us with story after story of this amazing man who did so much for drill throughout the state of Ohio and for his cadets personally. With such an amazing history of well over 5,000 cadets taught during his JROTC tenure, those who know Major Graves saw first hand how he used the tools of military drill to make boys and girls in his program wonderful and productive citizens after they left.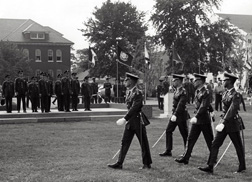 While instructing in ROTC at the University of Dayton, Major Graves helped to build the first Army JROTC programs in Dayton, Ohio. Soon after his retirement, his own personal JROTC journey began as the SAI of Colonel White HS in 1983. Under his leadership, this program leapt to national prominence dominating competition back home and then competing annually in the all-service Nationals - always in the mix for solid finishes, with several trophies earned within Inspection, Regulation and especially Color Guard through the years. Though the name of the school was changed to Thurgood Marshall HS a few years back, the teams he led for nearly three decades under his command were always highly motivated, well prepared and a credit to military drill.
But rather than only focusing on continuing to build within to make himself better, Major Graves freely would assist other neighboring schools develop their overall JROTC unit and specifically their drill programs; mentoring and assisting with training to help these schools become solid in what they would do on and off the drill floor. And again, while the Black Knights drill team continued to dominate in their area (winning the title of Governor Honor Guard), the lessons instilled in his cadets through his work of nearly three decades were building blocks that made a difference in the lives of many.
With several former cadets going into the service academies and directly into the military and achieving great success (many obtaining the rank of Colonel and even one Brigadier General!), it is the solid personal contributions and the extension of this former member of The Old Guard that makes Major Odell Graves a fantastic choice for a lifetime of work to sit here within this illustrious military Drill Hall of Fame.
In recent years, Major Graves continues to remain instrumental in the drill world through organizing and training former cadets and other local military figures into the intricacies of judging JROTC and ROTC drill competitions at a high level. His efforts even in retirement from JROTC continue to shine a large spotlight on his passion for military drill. No member of this Hall of Fame has shown a greater lifetime love and support of drill in all its forms than Major Odell Graves.