DRILL HALL OF FAME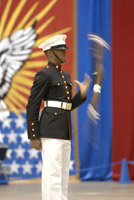 2015 INDUCTEE OF THE MILITARY DRILL HALL OF FAME
SGM Johnny Snodgrass & the Belles of the Blue Knights Drill Team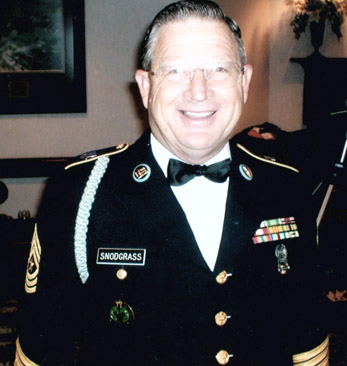 After a standout active duty military career that spanned from serving as an infantryman in Vietnam all the way through the lofty ranks only attained through excellence and exacting detail, a final duty stop as a Sergeant Major at the University of South Florida would be a life changer for not only himself and his family, but for the thousands of cadets he would change forever. It was here in the Sunshine State that SGM Johnny Snodgrass found the passion that would carry him to the pinnacle of drill notoriety and now induction into the National Drill Hall of Fame.
While conducting inspections of local JROTC units, SGM Snodgrass saw his passion played out at the high school level. Drill was his vocation in active duty and would be the tool he would use to make better cadets and better citizens taking a job within JROTC after retiring. Beginning his JROTC career in nearby Zepherhills, FL as a LET I instructor and drill team coach, SGM Snodgrass had never been to a drill competition previously. However, after winning first place in squad drill at a meet in Tampa, and seeing all of the other events that were taking place, he was hooked. He knew right on the spot he wanted his cadets to be the best in the nation.
Strangely, he was told before the meet that, "he might win the meet if Enterprise H.S. was not there". Strangely, they did not attend because unbeknownst to SGM, their SAI died of a heart attack just a month prior. At the conclusion of the school year, SGM saw Enterprise was seeking a new instructor and with the school was only 60 miles from the homes of both his wife and his parents, he applied. Only then months later did he learn of the cruel twist of fate that left the opening available. He was hired and soon the strong team grew to became the indomitable force that would change drill throughout the nation for well over a decade.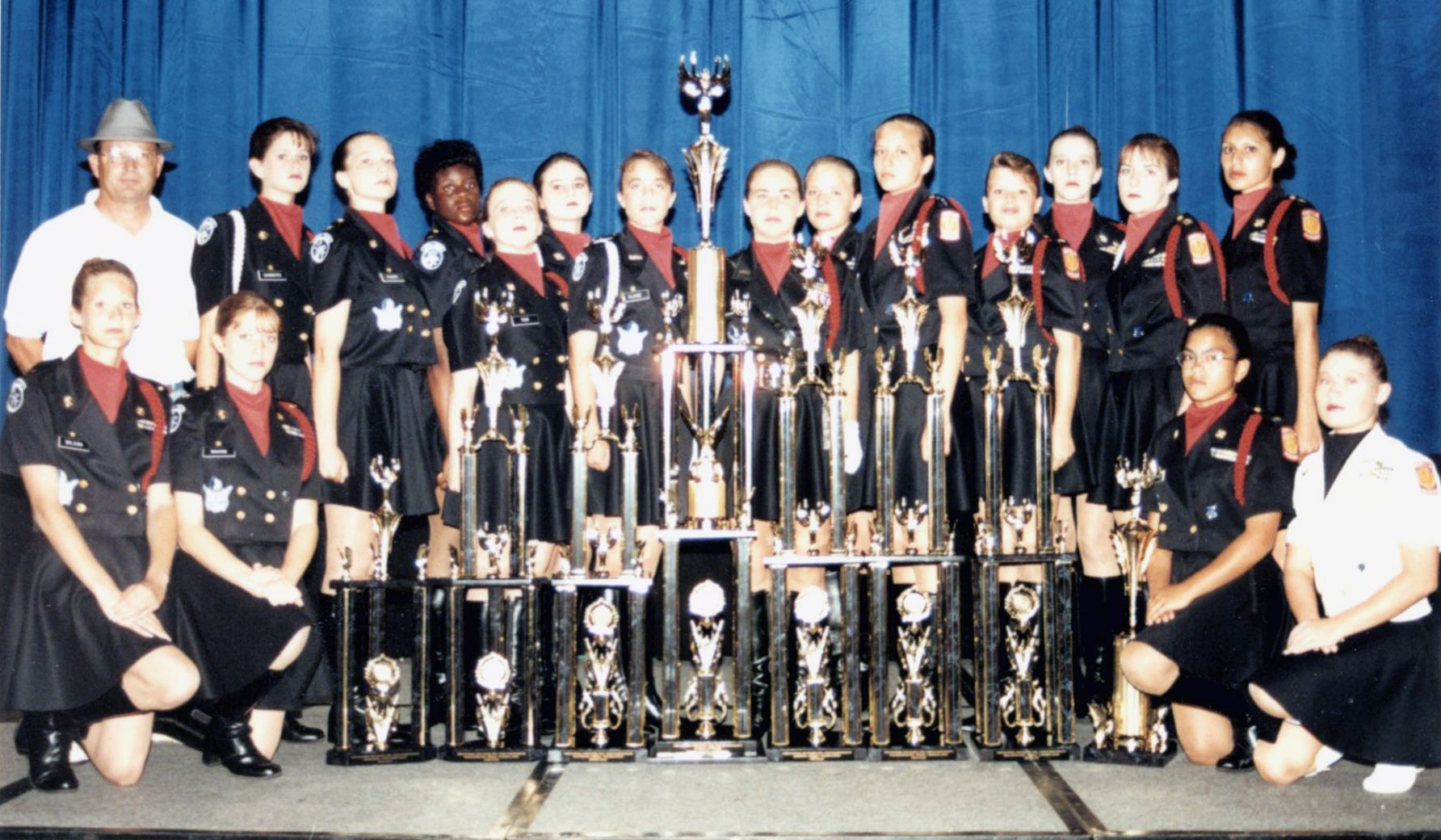 Within a short time, the male Blue Knights and the female Belles of the Blue Knights were more dominant than ever. They were without parallel at every meet they attended and frankly as candidly stated by SGM Snodgrass, "No one in the Southeast could touch us - only at the Nationals in Daytona Beach were we ever challenged". Numbers certainly bore that out as they dominated all phases of drill year after year. Their boys armed team was solid and displayed the precision and exhibition flair that rolled them to many top finishes everywhere they went. But it was the Belles of the Blue Knights, drilling with lightweight facsimile rifles, that simply took over the drill floor in many instances, but no place more than the Nationals. Year after year, the team dominated all phases of drill. Thy were tough, no-nonsense and had the heir of a champion. SGM Snodgrass was the exacting taskmaster that drove them to greatness and pushed both teams hard but also cared about his cadets and families like they were his own. He was the poppa bear, always nearby pacing as he watched his beloved teams. It is a memory many of those attending the Nationals in the early years will never forget.
While drill was the tool he used within the program, his program was exceptional on and off the drill pad. Their annual inspections from Cadet Command were rock solid, with a perfect 1,000 out of 1,000 score occurring on one occasion! Their layout and follow through within their JROTC building was used as the model for other Army JROTC programs. In other words, they were the gold standard on and off the drill floor!
You could see SGM light up when his teams performed. It was obvious to tell that drill was his passion. He was always quick to talk about his kids and deflect attention away from his exceptionalism to heap praise upon their shoulders. The JROTC program he brought to national prominence and the thousands of cadets whom he taught - giving them memories that they will carry a lifetime - may never be replicated. More importantly, he taught them exactly what can be accomplished with hard work, sacrifice and dedication, all items his cadets would use throughout their lives long after their JROTC careers had ended. Seeing the Enterprise drill teams reflected an extension of who he was - tough, hard nosed, dedicated, driven to excellence and caring for all around him. He is a moral man who won with grace and lost (rarely) with dignity and sportsmanship. He made others around him better just by their involvement with him and his program. And the joy he exuded in his quiet confidence is best personified when he stated, "If you enjoy going to work, can you call it work? If that is true then the 45 years, 3 months and 6 days that I was in uniform I never worked a day!". It is a high honor that the Nationals Drill Hall of Fame includes SGM Johnny Snodgrass into our illustrious circle of those who have done so much for the drill world. None have done more or been a better representatives of drill than SGM Snodgrass.