2014 INDUCTEE OF THE MILITARY DRILL HALL OF FAME
CDR Armando Solis-Flour Bluff High School
Sea Devils and Sea Hawks Drill Teams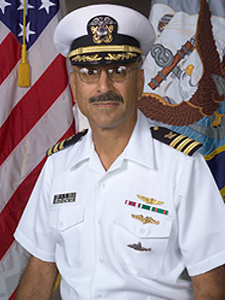 CDR Armando Solis has been the Senior Naval Science Instructor at Flour Bluff High School since the program's inception in June 1993. Commander Solis was born and raised in Brownsville, Texas. He attended parochial schools in Brownsville and graduated as valedictorian from St. Joseph's Academy in Brownsville, Texas. He attended and graduated from St. Edward's University in Austin, Texas in 1971 with a Bachelor of Science Degree Magna Cum Laude in Mathematics. Upon graduation from college, he was commissioned as an Ensign in the United States Navy and commenced a military career that spanned more than 22 years.
Upon his retirement from the Navy in 1993, Commander Solis was selected as the inaugural Senior Naval Science Instructor at Flour Bluff High School, and was tasked to commence the start-up of the unit in June of 1993. From day one the program exceeded all expectations. It was selected as the best new program in 1993, and has been recognized as a Distinguished Unit every year since 1994.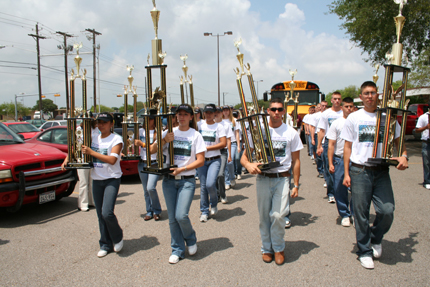 The program began a drill team almost upon start-up. CDR Solis, with no formal background in military drill, reached out to several Marines in the area, as well as many of the more well established units and the program soon flourished under his watchful eye and competitive spirit. Within three years, the program earned the title as Texas state Navy champion for the overall academic, athletic and drill. This title the unit earned two decades ago as of this writing they have never relinquished in 20 years facing and defeating the stiff competition from several quality NJROTC programs. This has given the unit a spectacular following and solid support from the Corpus Christi School District and the town itself.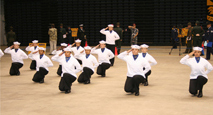 Not long after the unit captured their first State Championship, CDR Solis set his sights on the NHSDTC looking to win the overall all-service championship. After attending the event now for over 15 years, CDR Solis has walked away with NUMEROUS titles within both the Armed and the Unarmed Divisions of the competition. In fact since 2000, no school has won more combined Demilitarized and Unarmed Division titles at the NHSDTC than Flour Bluff HS. Even more importantly, his support of overall drill excellence through his working at the Nationals Drill Camp, and his open door policy with helping scores of new programs in their own efforts over the years make his generous spirit one that can be rare in these lofty competitive waters.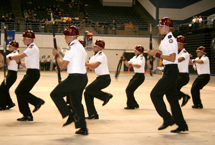 While the Drill Hall of Fame is largely about accomplishments on the drill deck, CDR Solis has likely maintained the most misunderstood unit in the history of drill. The Flour Bluff program has not only churned out exceptional cadets that went on to accomplish many great things both civilian and military, but just as importantly, they have an amazing diversity of focus that allows and promotes academic excellence, community service numbers that would make most units blush and even numerous appointees to the service academies and other institutes of higher learning. His program has been a credit to all-sround Navy excellence literally since the day he came aboard.
The idea of HAVING a military Drill Hall of Fame without both CDR Armando Solis and the Flour Bluff Sea Devils (Armed Team) and Sea Hawks (Unarmed Team) is laughable. They are both so intertwined with drill excellence and influence on so many other teams who now do many things this unit pioneered that decades from now the names of both the program and the man will be uttered in the same breath. It remains our highest honor to feature both of these entities in the military Drill Hall of Fame for their amazing body of work.