DRILL HALL OF FAME
QUICK LINKS

HISTORICAL INFLUENCES


- Baron Friedrich von Steuben

- John "Black Jack" Pershing &
the Pershing Rifles

ORGANIZATIONS &
THEIR GUIDING FORCE
- The United States Army Drill Team &
(The Old Guard)

- The United States Marine Corps
Silent Drill Platoon

- Mr. Paul Naki & The King's Guard

- The National High School
Drill Team Championships &
Sports Network International

- Mr. Constantine H. Wilson &
New Guard America

SCHOOLS & INSTRUCTORS
- MGySgt Douglas Dunlapp &
Fern Creek High School

- CMSgt. Frank Killebrew &
Oxon Hill High School

- Major Greg Mikesell &
Black Watch Drill Team
Winston Churchill High School

- LTC James Rose &
The Riderette Drill Team
Theodore Roosevelt High School

- SGM Johnny Snodgrass &
the Belles of the Blue Knights Drill Team

- CDR Armando Solis &
Flour Bluff High School

INDIVIDUALS
- Abdul Al-Romaizan

- 1stSgt. Christopher Borghese
2012 ORIGINAL INDUCTEE OF THE MILITARY DRILL HALL OF FAME
1stSgt. Christopher Borghese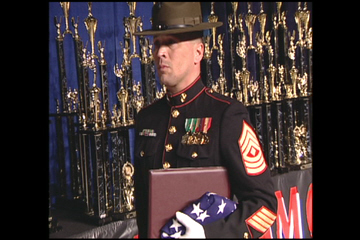 Nearly 3,000 judges have been a part of the many military drill competitions hosted by event manager Sports Network International over three decades of work. Most every judge gives their best effort and works hard to give the cadets a fair, even-handed evaluation. But a few judges transcend simply judging the cadets and provide the best cadets with an experience they remember for the rest of their lives. These judges are imposing but never denigrating, sharp of mind and insightful in the evaluation and most important, knowledgeable and fair in all of the scoring. Cadets gear up for their entire year and sacrifice much to face this judge, making him both the bogeyman and the most respected man in uniform. These characteristics best fit ONE judge in the history of all the events in Sports Network International legacy and that judge is 1stSgt. Christopher Borghese.
1st Sgt. Borghese not only did his job exceptionally well with attention to detail and understanding "the big picture", he lived, ate and slept military drill. He was a huge advocate of JROTC and especially the cadets who chose to make the sacrifices needed to excel within it. The cadets could sense this about him despite his impossibly tough demeanor while in uniform. He would often make comments on his scoresheets that were not just numbers - they were real world instruction, praise and manual points of emphasis. When time permitted, he would follow a team into the hallway if they had a particular tough run during the inspection phase which was his trademark judging event. He would often tell them to forget what happened in there, that they had more events to go and they needed to get their heads up and do their best! He was the kind of person who was a great role model for the cadets in JROTC and in life. There types of actions formed a respect that was a genuine two-way street that turned into a torrent of admiration that boiled over one night on the last night of a ten-year judging career at the Nationals.
1stSgt. Borghese was not only leaving as the Nationals Head Judge after ten years of service, but he was also retiring from the United States Marine Corps around the same time. His love for the Nationals and his respect for the institution it had become during his tenure left him one final act he felt he must execute to tip his cap to the instructors, parents and cadets who had given him so much while he gave so much of himself. He asked if he could end his military career on stage by having his official retirement ceremony on-stage during the awards ceremony.
As you can imagine, when CDR Armado Solis from Flour Bluff HS called 1st Sgt. to the center of the stage and read the appropriate words to execute the retirement, everyone in the crowd stood up and put forth one of the longest and most heartfelt standing ovations in the history of sports. An obviously moved Borghese maintained his bearing and allowed COL Jerry Cheatom, then from Theodore Roosevelt HS to assist in the retirement with CDR Solis. It was a special night in the history of the Nationals, as this individual was a special judge in the eyes of those who's lives he touched.
1stSgt. has moved on and has instructed at both the Marine Corps JROTC program at Ben Davis HS in Indianapolis, Indiana and at Flour Bluff HS, helping to led both to National Championships at the NHSDTC. He has taken both a relatively unknown drill program and in three short years, turned them into a National powerhouse and jumped on board a program with a long history and guided them to the ultimate vidtory as well. His love of drill and respect for the kids has come full circle as he now brings his team to be evaluated by judges at the Nationals and knows the feeling in the pit of his stomach he used to give so many individuals as they saw his lead flying across the scoresheets. Congratulations to 1stSgt. Christopher Borghese on a lifetime of work well done and a well earned DHOF spot for the indelible mark you have made on the drill world.