DRILL HALL OF FAME
QUICK LINKS

HISTORICAL INFLUENCES


- Baron Friedrich von Steuben

- John "Black Jack" Pershing &
the Pershing Rifles

ORGANIZATIONS &
THEIR GUIDING FORCE
- The United States Army Drill Team &
(The Old Guard)

- The United States Marine Corps
Silent Drill Platoon

- Mr. Paul Naki & The King's Guard

- The National High School
Drill Team Championships &
Sports Network International

- Mr. Constantine H. Wilson &
New Guard America

SCHOOLS & INSTRUCTORS
- MGySgt Douglas Dunlapp &
Fern Creek High School

- CMSgt. Frank Killebrew &
Oxon Hill High School

- Major Greg Mikesell &
Black Watch Drill Team
Winston Churchill High School

- LTC James Rose &
The Riderette Drill Team
Theodore Roosevelt High School

- SGM Johnny Snodgrass &
the Belles of the Blue Knights Drill Team

- CDR Armando Solis &
Flour Bluff High School

INDIVIDUALS
- Abdul Al-Romaizan

- 1stSgt. Christopher Borghese
2014 INDUCTEE OF THE MILITARY DRILL HALL OF FAME
MSgt. Ken Madden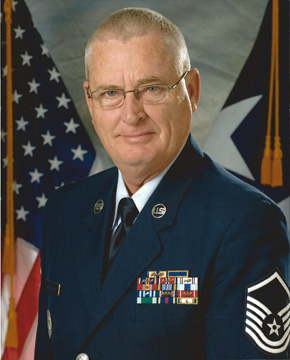 Master Sergeant Ken Madden was born at Mitchel Field on 26 June 1953. He enlisted in the Air Force in July 1971 and graduated from the Food Service Career field at Ft. Lee Virginia. His assignments include Lackland, Randolph and Carswell Air Force Bases, Texas and Osan Air Base Korea. He was selected for Military Training Instructor duty in April 1975 and was assigned to the 3710 and 3708 Basic Military Training Squadrons. His next assignment was as a Generals Aide. He returned to MTI duty in November 1982 and was assigned to the 3708 Basic Military Training Squadron. He was selected as a BMTS Master Military Training Instructor in July 1977 and as a Master Instructor in December 1987. He was selected as the 3710 BMTS Instructor of the year for 1976, 3708 BMTS Blue Rope of the Year in 1985 and 1988 Basic Training Senior NCO of the year.
After leaving the Air Force and working on base as a civilian for several years, MSgt. Madden took the job at Elkins High School AFJROTC in 1996 to 1998. In each of the years there, the unit received Distinguished Unit Awards and became a dominant force of drill throughout Texas & Oklahoma winning BOTH state championships. He learned quite a bit about AFJROTC rather quickly and with his unparalleled background in military drill, but knew he wanted to be at a bigger school on a bigger stage closer to the location of San Antonio, Texas. In 1998, MSgt. Madden made the decision to move to John Jay HS. This would be a huge shift in the military drill world as John Jay soon became one of the premiere programs not only in AFJROTC, but in the world of all-service national drill competition.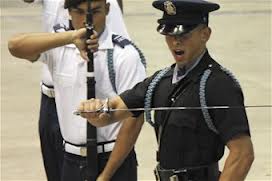 During his 11-year tenure at John Jay HS, the Silver Eagles (Armed) and the Snap II (Unarmed) drill teams became known for their powerful and almost destructive style of drill. In particular, the Armed team which he instructed was among the finest in the land, often commanding the attention of an entire arena with the macho domination of the drill deck. To see them drill was an experience in testosterone-laden controlled fury. There performances were often copied but always fell short of the impact they were able to produce themselves because of the amazing difficulty they put forward as well.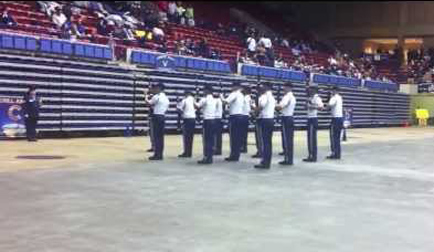 John Jay HS Armed Team won the all-service National Championships in 2002, runner-up in 2013 and won the Armed Exhibition category on numerous occasions (shown at right). They have also produced some of the finest solo & dual exhibition performers in the history of the sport. Jay HS also domninated the smaller VFW Nationals in both 2003 and 2011. As an aside, MSgt. Madden also COMPETED in the ISIS World Drill Championships HIMSELF when he was an instructor! His talent was exceptional and in 2007 he was asked to go to Singapore to teach military drill & ceremony to the programs of the area. He has been named Outstanding Instructor seven times. In a word, excellence has followed him everywhere he goes.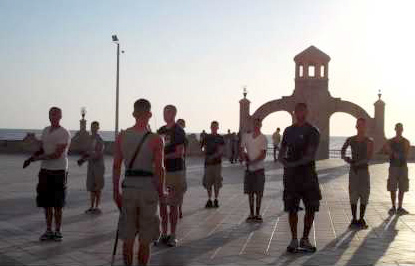 While a tough decision, MSgt. Madden left John Jay to begin a brand new AFJROTC program at Brandeis High School in San Antonio in 2008 (shown at left practicing on the beach at the NHSDTC) where he remains today. Starting with only a single driller with modest experience on both the Armed and the Unarmed teams, MSgt. Madden quickly took the team to the top winning the state championship in just their second year and already has gained several top finishes at the all-service Nationals and is in the mix for the overall title annually! It is hard to think of someone who had given more back to the drill world AND has had so much success as MSgt. Ken Madden. His inclusion into the military Drill Hall of Fame was a long time coming and richly deserved.