Cheerleading is a part of football and we encourage this whole-heartedly at the NYFC! Youth rec competitive cheerleading has been on a slow decline for many years now and the NYFC no longer offers a rec cheer "competition" at the event. But FEAR NOT cheerleaders, your efforts here are welcomed thoroughly and we have a way to ensure you have your time in the sun as well!
Those teams wishing to have their cheerleaders fully included in the fun can do so and we offer two ways to make this happen!.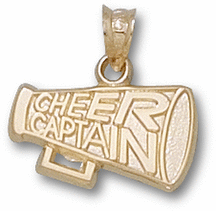 ATTENDANCE METHOD ONE: Youth cheerleaders in uniform may attend the competition as SPECTATORS without charge. They will be seated (and standing!) in the bleachers to cheer for their team. Much like the parents around them, they will not be granted any field access as they are not participants, they are spectators. The cheerleaders will pay nothing and receive no NYFC mementos. Any adult cheer coaches over the age of 12 will need a spectator pass for entry. These are available both in advance and on site at the NYFC Headquarters Hotel. There is no need to list the cheerleaders on any advanced paperwork because they are simply "child spectators" for your team.
ATTENDANCE METHOD TWO: Youth cheerleaders in uniform may attend the competition as PARTICIPANTS. They will be allowed to cheer on the sidelines of all games played by their attending team, as well as cheer at halftime (if teams have MUSIC they cheer to at halftime, please have this available to play over the field PA system via cell phone). The cheerleaders and any corresponding Cheer Coaches seeking sideline access will pay no squad registration fee and a greatly reduced fee of just $25 per person. With this fee along with the field access, they will receive the same NYFC shirt and team photo received by the football players and coaches!
For teams seeking to have their cheerleaders as "participants", they will put their names on the participant list of information on their MyTeam website, along with their shirt size and their attending code ("CH" for the cheerleaders / "CC" for the cheer coaches). The per person fee is submitted at the same time the fee for the football players and coaches are submitted.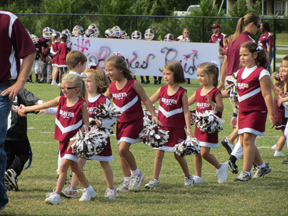 Therefore, if your team wishes to ensure your cheerleaders can be a part of the event, ensure your Trip Manager is notified and they can then work with you to make the decision on how to attend that works best for your group. If your cheer squad has NO football team attending the National Youth Football Championships and still wish to attend, we have teams of a similar age and maybe even close proximity to your home town! It may just be worth the phone call for your football and/or cheer organization...
Regardless of what you do or where you go, we as always wish you good luck, good health and a positive, memorable experience. And mostly, thanks to all of you for what you do for these kids. The lessons they learn involved in youth cheer in any solid, well coached program will carry with them long after their competing days are behind them.
Sportingly Yours,
The Sports Network Team