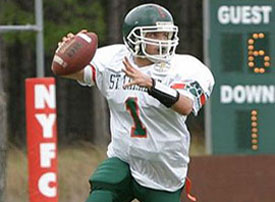 FREQUENTLY ASKED QUESTIONS - NYFC
Question #01: - Other Football Tournaments Have Very Similar Names as the NYFC, Do You Run These?
Question #02: - What Specific Things Should I Be Looking For in a Post-Season Tournament?
Question #03: - What Are Some Specific Items that Make the NYFC a Better Experience?
Question #04: - How is the NYFC Tournament Structured - How Are Teams Matched for Play?
Question #05: - There is No Cheer Event at the NYFC - What Can Our Cheerleaders Do?
Question #06: - When Does the Official NYFC Invite & Website Become Updated for the Season?
Question #07: - Why Do We Play Just Two Games - Can't We Play More?
Question #08: - What Are the Age & Weight Divisions Used at the NYFC?
Question #09: - What Criteria Do You Use to Match Teams for Play at the NYFC?
Question #10: - Must Our Team Arrive on Weigh-In Day - Can't We Just Show-up & Play our Games?
Question #11: - How Can We Best Get Our Rooms We Need For the NYFC?
Question #12: - Do We Have to Stay in the City of Las Vegas? Can We Camp? RV?
Question #13: - I'm Not So Sure Las Vegas is Such a Great City for Families?
Question #14: - When Do We Find Out Who & When We Play?
Question #15: - When Are the Total Costs to Attend the NYFC?
Question #16: - We Have Some Really Good Players - Does The NYFC Have Anything Special For Them?
Question #17: - We Want to Fly Into Town, Do We Really Need Ground Transport in Las Vegas?
Question #18: - What Determines Who Gets into the NYFC and Who Does Not?
Question #19: - We Have Multiple Teams, Can I Request My Teams All Play at the Same Field?
Question #20: - Does the NYFC Have a Minimum Play Rule?
Question #21: - Why Was Thanksgiving Weekend Chosen?
Question #22: - Is The NYFC Only For Great Teams with Great Records?
Question #23: - Do You Allow All-Star Teams? High School Players?
Question #24: - What Do You Do to Age & Weight Verify?
Question #25: - We're Pretty Sure We Want to Attend the NYFC...What's the First Step?

Question #1 - Other Football Tournaments Have Very Similar Names as the NYFC, Do You Run These?
The National Youth Football Championships have been around CONTINUOUSLY since 1972. Sports Network International only produces the football competition specifically entitled the NATIONAL YOUTH FOOTBALL CHAMPIONSHIPS. We have no connection to any other youth football events or leagues produced.
Over the years, over 350,000 football players and cheerleaders have been a part of the NYFC competition. Many have gone on to play in the NFL, an even larger number played in college as well. Most do not and they play simply because they love it. With so much interest and so many past attendees, a few individuals have attended the NYFC and then decided to go home and put on their own post-season competitions. Unfortunately, hundreds of these competitions have come and gone over the past several decades. Usually, these events will linger around for a few years, disappointing most of the attendees and then disappear. Most of the people that produce these "copy cat" competitions retain the bulk of the rules, regulations & structure that have helped to make the NYFC the fantastic, safe competition it has become known for (thus, perpetuating the confusion!). Unfortunately, they often learn that it is a tremendous amount of work to produce an event of this caliber and teams soon choose not to attend for reasons too numerous to list here.
Question #2 - What Specific Things Should I Be Looking For in a Post-Season Tournament?
When you look closely at other competitions, you will often find that the information on past event attendees can be hard to obtain or is just plain false. How many teams attended? Where were they from? This is a good indication on what the tournament will host in the future! Do they provide paperwork, event schedules, photos, results, maps and other materials to show that the event is very well organized and planned well in advance? Can you see the address and facility name for their registration/player weigh-in/birth check areas, awards presentation, and other vital areas BEFORE you send in your money? Generally, if the event is organized and well presented prior to your entry, it has a better chance of being organized and well-delivered WHEN YOU ARE AT THE ACTUAL COMPETITION!
Often, football events will give you the impression that their tournament is much larger and more on a grand scale than it really is -- and they can do this because interested people often do not look in depth. When this occurs, it is usually because the event has fewer teams than you are led to believe, and/or the bulk of the teams that DO attend are local teams from the local area. And then you will play these local teams on their local fields in front of their local fans with local officials - and you do not know most of this until you arrive - doesn't sound very exciting or fair, huh?
The single biggest "disaster scenario" to watch for is really two-fold. Either of these are terrible and unfortunately, happen to unsuspecting teams every single year. Smaller events will often take your money up front, promise to "find someone to play against your team" and then, because they have so few teams attending, either a)they will cancel your competition division in early November when it is too late for you to go anywhere else and hopefully refund your registration fee (leaving you stuck with non-refundable buses, airfares, hotel deposits and other items paid for but not able to use) OR B)they will move you UP into a competition division against players significantly older and/or more talented than your team WITHOUT YOUR KNOWLEDGE where your kids will be slaughtered. Either of these scenarios are terrible for the kids and parents who planned on this trip, making it memorable for all the wrong reasons.
In recent past, these two scenarios have become even more prevalent. Several competitions with a large web presence (one touting themselves as a "National Tournament") were cancelled and/or severely curtailed very late, disappointing countless people. Worst of all, by the time this happened in early November, the NYFC was completely full as it is every year with well over 4,000 people attending and we could not accept any of these teams for entry. These cancellations left these families with broken promises and empty dreams as their memory of Thanksgiving. Fortunately, these are not items that occur at the National Youth Football Championships.
Question #3 - What Are Some Specific Items that Make the NYFC a Better Experience?
We used to get this one quite a bit in the earlier years of the NYFC. Luckily, word-of-mouth has answered this question for most coaches and parents! Basically, everything we do at the NYFC is done from two perspectives. 1) How can we make the event special for the attendees and 2) How can we make the event as safe as possible while still keeping the event affordable for the majority of youth teams.
In specific, the Event Manager Sports Network International maintains no relationship to any one youth football team or league. There is no "local" league that runs the event or has any part in the forming or carrying out the rules. Therefore, the overall rules, event structure and division match-ups, EVERYTHING ABOUT THE EVENT is not designed to favor any specific team or association. This is critically important! Most tournaments are produced by a host team or league. These host groups many times ensure that their local teams have many advantages, seen and unseen. Know that when you attend the NYFC, no teams maintain a "home-field advantage" as SNI is not connected with any specific league.
Another important item is the extensive background checks of the participating teams (something most tournament give lip service to but rarely banish teams for previous poor behavior). It is painful to see so many of the teams and coaches that have faced LIFETIME BANS from further participation at the NYFC for using illegal players, faked birth certificates, disgusting sideline conduct, etc. and they attend other tournaments without any questions from the tournament host. This cheats the kids and cheapens the overall tournament, along with making it incredibly dangerous by allowing older players that have no business being on the field with the other younger players. SNI uses several advanced methods, both prior to the event, as well as during the competition to ensure that all players are eligible to play on a particular team at a particular level. This is a vary large factor in why many teams have been attending the event for over 20 years.
The NYFC also uses a full 10-minute stop clock, 4-man official crews and first class facilities. Playing a full clock allows you more plays and more possessions, which means more ability to get all of your players meaningful playing time in both games. The NYFC also uses largely high school stadiums and other top-notch facilities so the kids can play where the big kids play, not on flat, converted soccer fields like some do. We often have retired NFL players ot other special guests come to present the trophies. Again, how can we make it special for the kids!
Also, the NYFC maintains no additional team or individual insurance requirements to attend. This can be a very big hassle to be forced to run around getting insurance binders and other paperwork! We don't require you to stay in overpriced hotels and all of our costs are very transparent and easy to explain to parents! All of the NYFC paperwork is received well in advance and easily understood. Our closing ceremonies/awards presentations are done in a special fashion, along with a huge number of teams to draw from help to give the NYFC the most competitive game match-ups possible.
But the most important items of all? Our staff and out commitment to be there for you when you have questions. You are trveling hundreds if not THOUSANDS of miles. leaving phone messages for days without talking to a human or getting no response to emails seemingly is the norm thee days. SNI is a professional company that does extensive work for the U.S. government and as such, we are available and responive to make your trip safe, enjoyable and memorable for the right reasons. With almost 40 years of experience in the production and hosting of youth football teams from around the globe and dozens of teams who have attended for decades, the NYFC is a special experience!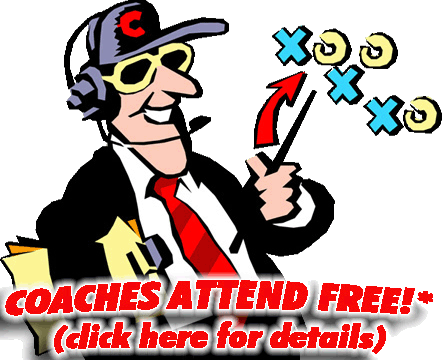 Question #4: - How is the NYFC Tournament Structured - How Are Teams Matched for Play?
Let's start with the structure of the event. The NYFC is designed as a college bowl-style event with each team playing two games, win or lose. Rosters are broken down and many factors are considered when we decide "who is going to play who". The largest of these factors include: team maximum age, team team max weight (for limited weight divisions), size of th community the team is drawn from, as well as the average line and backfield weights, historical league and team strength, as well as age spread of the roster, top to bottom. The teams are then hand-matched into different age & weight conferences. These conferences allow our company to better allow teams of similar age, similar weight, and similar TALENT to play against each other (again, to produce more competitive football games). REMEMBER, the NYFC is not about finding the greatest specific age/weight team in the nation, it is about giving hard working players, coaches and parents a solid football experience to end their season!
The conferences are given names such as National, American, Central, United, etc. to better identify and locate games on the large NYFC Game Schedule. Where groups bring multiple teams from the same park, all efforts are made to ensure the games at the same or nearby locations to allow parents with multiple players easy access to seeing both siblings participate.
Question #5 - There is No Cheer Event at the NYFC - What Can Our Cheerleaders Do?
While it is true that recreation cheerleading has greatly diminished in the United States to the point where a solid cheer championship cannot be held, The NYFC ensures that the cheerleaders are considered a valued part of the entire NYFC experience!
Cheerleaders attend the event and do receive everything that the football players receive. However, because they do not require game officials and facilities, they pay a greatly reduced fee. Their reduced per person Team Package Fees do allow them access to the sidelines to cheer and be a part of the games just like the football players, as well as the ability to perform for the crowd on the field at halftime. It should be noted that those cheerleaders who do not wish to attend through the package are not required to, but if they elect not to, they will attend the games and watch from the bleachers just like all other team spectators. Those that are 13 and over would need a pass for admission.
Question #6 - When Does the Official NYFC Invite & Website Become Updated for the Upcoming Season?
While the date for the NYFC (American Thanksgiving Weekend) is set immediately after the previous year event, the official invite and other needed materials are posted NLT the June 1st annually. The invitations are also mailed out to youth football programs on the July 4th weekend. That being said, very little changes from year to year so we always leave the previous year information posted to allow all programs looking for details the ability to read and plan from the previous year materials. Interested football teams and cheer groups are encouraged to call or email Sports Network International to be placed on a preferred status in our database.
Question #7 - Why Do We Play Just Two Full, Official Games - Can't We Play More?
This has been looked at every few years or so here at SNI. While we understand why well-meaning coaches would want to play more than two official games if they are going to travel a long distance, every reputable expert within the medical fields related to youth athletics, as well as every major youth football league (Pop Warner, American Youth Football, USA Football) agree that it is not arguable that the number of injuries and the severity of the injuries that occur during games DRAMATICALLY increase when you attempt to add a 3rd game (or more) in a three day period. This is especially so for players 12 and older, but even has a limited impact on younger players (honestly, statistics show no dramatic rise on players 9 yrs. old and younger). The games themselves, combined with the warm-up needed for same, just are not meant to be done in this often violent contact sport. This is due largely to the fatigue factor that occurs, especially playing in the oftentimes warmer daytime weather that can occur at the NYFC!
It must be noted that the NYFC plays a FULL football game. Many other places that promise more games use a running clock that can make playing the games somewhat of a travesty. Teams contact us annually with horror stories about games with running clocks where they only get POSSESSION of the ball 3-4 times in an entire game! The NYFC utilizes full, 10-minute game clocks with high school clock stoppage rules in effect so when you come here, you are playing real football.
Most coaches who look for this are well meaning but they just do not think of these factors when they clamor to play more than two games in three days, often until it is too late. Along with the obvious and overwhelming injury facts, the mentality of coaches that seek 3, 4 and even 5 games in three days often makes me question their underlying motivations. The football games are a huge part of coming to the NYFC but they are not the ONLY part of coming here. The teams that want to play 3, 4 and even 5 games during that period in MY EXPERIENCE are often the "winning is everything" groups that are coming here to prove what a great football team they are, not a team that wants to play hard, have fun and attend to reward their players and coaches for a year of sweat and sacrifice and have some great football and a memorable vacation together. So offering just two FULL games may in some cases have these types of teams look somewhere else to play, and that tends to "weed " these types out.
Question #8 - What Are the Age & Weight Divisions Used at the NYFC?
All divisions of the NYFC maintain competition divisions ranging from 7/8 to 13/14 with some allowing light 15s, with teams attending the event from all parts of the United States and Canada (occasionally, outside North America as well). Most leagues regulate the MAXIMUM age and MAXIMUM weight of the teams in their league. This is because virtually every other important variable is controlled by the league simply by assuring that each district is approximately the same size. This ensures each team within the league, in theory will have approximately the same AVERAGE weight and AVERAGE age. It also attempts to equal the numbers of kids who try out for each team. Leagues also ensure all teams utilize the EXACT same league rules -- including the same age cut-off month -- are in use. While regulating just MAX age & MAX weight is adequate for league play (even though you STILL get 40-0 football games), it is woefully inadequate as the sole criteria for any extra-league play such as an invitational, post-season youth football tournament and why it has not been a part of the NYFC in well over 20 years.
The competition divisions of the NYFC are set-up based on the teams who elect to attend the event each year. Each division is hand selected to produce the most evenly matched, competitive, safe football games possible to end the season. Several teams apply for entry each year that cannot be accepted because we cannot find acceptable match-ups for their team. This may be due to their age and/or weight make-up, their team composition (no all-star teams are accepted) or just because we have no competition spaces remaining open for their team when they register.
The NYFC DOES NOT maintain these pre-ordained maximum age/weight divisions. Setting a single age/weight standard is the simplest method and that is why most smaller post-season tournaments still cling to this archaic and dangerous method of national team matching. In fact, the NYFC utilized pre-posted age/weight divisions until 1985. It was disbanded in favor of the hand-matching process. Since that time: final scores for all football games have become closer; injury statistics have improved overall; and teams attending from smaller towns have a more equitable shot at winning their games at the NYFC -- thereby gaining more competitive football games which is the goal of the event. And again, because Sports Network International maintains no relationship to any one youth football team or league, the match-ups are done in a fair and even-handed manner, not designed to favor any particular team or association.
Question #9 - What Criteria Do You Use to Match Teams for Play at the NYFC?
The most important Hand-Matching criteria used by the competition committee of SNI include: 1) maximum team age; 2) team age range (oldest to youngest); 3) average team age; 4) average team weight; 5) traditional strength of league (historical power ranking); 6) head coach / opposing coaches opinion of their team strength 7) results vs. common opponents; 8) number of players who try out for the team; 9) maximum team weight; 10) utilization of "lightweight/olders" or "younger/heaviers". To "boil this to the bone", the age of the players remains the most important match-up factor. Teams will always be matched against teams of similar age composition, first-first-first. This may be skewed by months on the age cut-off date of the opponents, dependent on the max, mean & average weight of the other teams, as well as the season record and overall strength the opponents may maintain.
As with any athletic contest, nobody can predict the outcome of a game. However, by using the Hand-Matching method, history has shown that the primary goals of the NYFC are promoted. Frankly, this is why so many teams choose to attend and return to the NYFC.
Question #10 - Must Our Team Arrive on Weigh-In Day - Can't We Just Show-up & Play our Games?
No, unfortunately it does not make logistical sense to have pictures and weigh-ins on the same day that the games begin - we could never get all of the teams through the process and still play games! The NYFC is about a football team and cheer squad bringing their families together to attend a weekend athletic competition together. Part of what makes the NYFC so amazing is the level of organization. This comes from the ability to do everything properly.
With roughly 100 teams at the NYFC often from across North America, weigh-ins, registrations, team pictures, etc. MUST be done throughout the entire day on Wednesday. In this way, games can be played on Thursday, Friday and Saturday, two of those three days. We do not play games on Sunday so teams can get home before the start of school Monday morning. Therefore, arriving on Wednesday evening at the latest is the only way the event can function. If your team has a player or two that simply cannot make the weigh-in on Wednesday, we can make an exception and take just these few kids and weigh them in on Thursday morning. Doing this however, the player will NOT be in the team picture that was taken the day prior.
The NYFC is much more than just "playing two football games". If this is all your group is looking to do, you really should reconsider traveling to a huge football experience like the NYFC.
Question #11 - How Can We Best Get Our Rooms We Need at the NYFC?
While you are welcome to get your own hotel or other rooms anywhere you choose, Sports Network International has acquired the thousands of rooms needed for the NYFC during the very busy Thanksgiving Holiday Weekend to ensure they are available for your use. Sports Network works with the hotels to set aside all of the rooms needed at very reasonable rates. A complete list of these rooms can be found on our Official NYFC Rooming Services Website. These hotels have been specially screened by SNI. These properties welcome youth football groups, offer solid rate discounts, and have become partners with the NYFC. Staying at one of these properties does give you some tangible benefits because these hotels are a true part of the event. The biggest advantage is game dates and times are released several days earlier to allow these teams to schedule team Dinners with the NYFC hotels. Also, groups that bring two or more teams to the NYFC and stay at one or more of these NYFC Tournament Hotels can be eligible to receive a credit for their football registration fees (see the NYFC Costs to Attend for complete details!).
The NYFC host hotels appreciate the family atmosphere that surrounds this football competition. This partnership ensures the hotels that the teams will be adequately supervised and just as importantly, it ensures we will have sufficient hotels available at all quality & price levels at reasonable vacation timeframe prices. Does that mean that EVERY adult with your group MUST stay with the team in this hotel? Of course not, but hotels certainly welcome your players, coaches and parents to ensure both your group and the hotel have a great experience that you can repeat year after year should you wish.
Question #12 - Do We Have to Stay in the City of Las Vegas? Can We Camp? RV?
The NYFC allows maximum flexibility for organized teams to stay anywhere they desire. However, teams that have players scattered "to the winds" should think hard whether this is a workable scenario. Scheduling practices, team meeting or even getting to the games on-time could be a nightmare. Having a parent or two scattered about can be workable but all coaches should think carefully about having their players scattered throughout the Clark County, Nevada.
Question #13 - I'm Not So Sure Las Vegas is Such a Great City for Families?
This is a valid concern and you should be commended for caring about the general welfare of your youngsters and/or your parents. Let me start by saying we at SNI looked carefully at Las Vegas as a family sports destination BEFORE we decided to move the event here from Sacramento in the early 1990's.

Generally, people who have not BEEN to Las Vegas do not understand that Las Vegas is a huge, diverse town! Much like every sizable city in the world, knowing what you are doing and being in the right places will have you safe and happy. The items that make Las Vegas very "adult" are confined and limited, away from what youngsters experience with two large expectations. Primarily on "the Las Vegas Strip" (the main road leading through the middle of town), car advertisements for adult establishments can be a bit graphic and need an explanation. Also and more troubling, primarily on the EAST side sidewalk of the strip, there are many people who hand out information to adults regarding these same establishments. For this reason, we generally do not recommend walking as a family on the strip with very young children - we drive through and sightsee the volcano show, the Bellagio water show, etc. If we need to get to the hotels on the strip, they all offer a back entrance off the strip we utilize. But overall, we have a GREAT, affordble family vacation and feel very safe at all times (something I cannot say about every U.S. city I have traveled to!)

The NYFC Rooming Services do not offer many hotel properties (and they don't build fields) on the main strip for the NYFC for several reasons: these are: 1) traffic on the Las Vegas Strip is a NIGHTMARE and should be avoided whenever possible; 2) These hotels are often HUGE and it can take an hour to get your car from the parking area; 3) Bus Parking/retrieval can be a nightmare as well. The hotels we recommend through the official NYFC Rooming Services are screened and located in areas that have easy access to highway travel to get you to and from everything in Las Vegas with minimal traffic impact.

The NYFC is held in various football facilities around the city. Our family (three pre-teen children) have stayed in Las Vegas and always have a GREAT time! We always stay at the Rio as the rooms are HUGE and the restaurants are great (the Headquarters Hotel for the NYFC). When we come as a family, we shop, we play, we ride the rides at the Stratosphere and the Adventuredome, and we go to the many shows around town (some were free, some were cheap and a few were expensive but amazing!) Here is a great list of things to do with kids, along with older youngsters before you leave home to prepare. Heck, here is a list of the many cheap and free things to do for those on a tight budget! And we're done most all and had a blast!

Question #14: - When Do We Find Out Who & When We Play?
Match-ups are done throughout the middle and end of October with the official NYFC rosters submitted by the teams. We send out tentative pairings that give you the state where the teams are from and a general description of the type of teams who will be in your bracket in early November, a few weeks prior to the event.

As far as when you play, this is unfortunately only distributed in the few days prior to the competition. Teams will learn when and where they play on arrival when they pick up an official schedule during event registration. This schedule is posted on-line on TUESDAY before the event starts at the NYFC website.. Teams traveling from around the country can sometimes maintain unforeseen travel problems forcing a late schedule change, facilities can maintain a snafu here or there, local teams fields run into the state football playoffs, etc. causing a needed schedule shuffle, etc. It has been our experience that, while a bit inconvenient for those who are looking to travel in for just a game or two, the vast majority of organized teams have been able to readily plan for this throughout the history of the NYFC with minimal inconvenience waiting until just prior to release the schedule.

Question #15 - What Are the Total Costs to Attend the NYFC?
The NYFC event maintains a $250 Registration Fee per team.

This Registration Fee, along with the Team Package Plan fees, pay for all of the costs associated with the event including: team package items (shirts and team photos), fields, referees, trophies, staffing, etc. These costs to attend are outlined within the Official NYFC Invitation with even greater details found on the "Costs of the NYFC" webpage.

The only other costs to attend the event are controlled by YOU! Travel costs, hotel and/or camping costs, food and any entertainment costs you plan to do will be up to you as well. YOU HAVE COMPLETE CONTROL OF THESE COSTS, making a trip to the National Youth Football Championships affordable on almost any budget.

Question #16 - We Have Some Really Good Players - Does the NYFC Have Anything Special For Them?
This is a HUGE CHANGE for the NYFC in recent years. The NYFC has teams of all sizes, shapes and talent levels. The event has more than it's share of players that have gone onto high school, college, and even PROFESSION SUCCESS. Recently, the competition to be seen by some of the best schools in the country in both the high school and college level have come to the NYFC. Therefore, for your very best players, especially in the 12 year old divisions and higher, the NYFC has developed several partnerships with programs that can help you get these players the maximum exposure to those who can help....friends of high school and college coaches, scouts, recruiters, and other who love the game of football and are always looking for players who can help their program. These people can help you to help your child's dream of an football future come true to the maximum of their athletic abilities. Please take a moment to look through our Official Supporters page to see how these groups can help you!

Question #17 - We Want to Fly Into Town, Do We Really Need Ground Transport in Las Vegas?
YES, while individuals and families can take a cab, you will ABSOLUTELY need your own vehicle(s) as you will go broke on cab rides! The NYFC is a huge event that uses between 5-7 different field locations placed throughout the city. Fields can be anywhere from 10 minutes to 45 minutes from your hotel. Along with this, teams need to EAT, do some sightseeing, go to activities, get to the Event Registration, as well get to the closing awards, and then back to the airport. Trying to do this without ground transportation at your disposal would turn a fun vacation into a nightmare faster than anything else I can imagine.

Question #18 - What Determines Who Gets into the NYFC and Who Does Not?
Any team currently playing youth football can receive an invite to attend. The official invitation is mailed to over 2,000 youth football leagues throughout North, Central and South America. We annually mail a total of roughly 3,000 invitations to teams around the world but more importantly, we post the official invitation RIGHT HERE on the NYFC website! Teams who register to attend are screened immediately upon entry to ensure they have credible backgrounds, solid coaching and good references from their league officials and/or peer coaches in their league. From these entries, we generally take the first 80 or so teams that enter with solid credentials and place them into the competition field. in the many age & weight classifications used at the NYFC.

As this is a National tournament, we try to ensure teams are accepted from across the United States, therefore in some cases, we are forced to limit the ability of some leagues to send too many teams. Especially limited are quantities of teams from big cities that annually express huge interests in attending the NYFC including: Los Angeles, Denver, Phoenix, Salt Lake City , etc.. However, regardless of where you are from, if your team is in good league standing and begins their organization early, there is a very good chance that your football team and/or cheer squad can be a part of the upcoming NYFC event. We encourage all football organizations looking to end their season of hard work much like the college bowl teams do with a warm weather Winter football competition, please look at making your group a part of the National Youth Football Championships.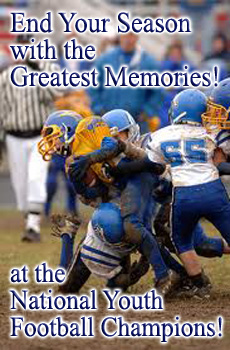 Question #19 - We Have Multiple Teams, Can I Request My Teams All Play at the Same Field?
SNI cannot guarantee this schedule configuration. However, on the first day of the event, we have generally had good luck playing most every organization bringing multiple teams back to back at the same or very nearby fields! When and where they play their second game is more dictated by how they do in game #1 and we have less control over this.
Question #20 - Does the NYFC Have a Minimum Play Rule?
No, this and most other related decisions are made by the Head Coach. The NYFC does not nursemaid teams or meddle into the coaches discretion in this area regarding who plays and who does not. Of course, it is strongly encouraged that all players who are not on some form of disciplinary action get "adequate" playing time during the two games of the NYFC. Again, how much that is remains a coaches decision.
Question #21 - Why Was Thanksgiving Weekend Chosen?
The NYFC values education in youngsters and the time children spend in the classroom above all else. We love football and sports in general but books must come first! Many national football organizations say they are big supporters of education, then hold their championship events during an entire week when everyone is in school! Seems like actions speak louder than words frankly and that is unacceptable to us here at Sports Network International to tell kids to leave school for a week for any extracurricular sports, especially when just weeks before you have a 4-day period where many of these people are off work and the kids are out of school. While we know this can often leave teams with a few players that simply cannot attend, on balance it is the right call and it has been well received over the decades from our event families who ALSO value education and can more easily get the time away to travel.
Question #22 - Is The NYFC Only For Great Teams with Great Records?
Great question! No and I will explain why. While the NYFC certainly has quality football programs attend with solid game accomplishments, many of the teams that choose to attend the NYFC often do so in July and August before their games have even begun! Now we still receive more than our share of undefeated and one loss teams, but ANYONE WHO PLAYS CLEAN FOOTBALL AND HAS SOLID COACHING A GOOD PARENT SUPPORT WILL BE ACCEPTED TO PLAY AT THE NYFC!
A trip to the NYFC can mean many things to many different groups. To some teams this is as much about the vacation as the football. To others it is only about the football. Most fall somewhere in the middle (if they just want to play football, just get a field, pay some officials and play in their neighborhood!). We believe that regardless of your record, our history shows that we can make great competitive game pairings as teams of all backgrounds and strengths attend the event. Obviously the more times we see a team, the better we can do this because we get a feel for the team and their relative strength. The vast knowledge we have regarding relative league strength nationally and then obviously team records within these leagues makes this especially important when matching teams for play.
Question #23 - Do You Allow All-Star Teams? High School Players?
In general, this is not an all-star event. Teams that attend play together all year long. However community based football programs have changed dramatically over the past decade or so. When I was a kid, most towns had a single football program and the team had 30-35 kids on a team. Today many of these same communities now have two or sometimes three different programs all fighting for kids with rosters greatly diminished on each team. Combine that with the recent concussion awareness scare sweeping many of the leagues dropping numbers especially in the Northeast and Midwest, and you now have a major change in how football teams are put together.
While our NYFC rules do NOT allow teams to hold try outs or hand select great players to assemble a fantastically loaded all-star type team, we do have provisions for existing teams in a league to add players from their own association on JV teams or B teams/in house teams, as well as in many cases league players in much smaller number from another smaller program in their own community. We also have and will continue to make exceptions in team formation from very small communities on a case by case basis.
It really depends on the situation within their town and the how and the why these players are seeking to be added. These are decisions basic on logic and circumstances that are determined by SNI for the sake of fairness to all attending teams.
Question #24 - What Do You Do to Age & Weight Verify?
I can't give away all our secrets but SNI as the Event Manager for the National Youth Football Championships takes very seriously the age and the weight of the players attending and performing in the event. Word has gotten out and generally those teams that try to run fast and loose with age and/or weight standards steer clear of the NYFC because I believe some tournaments get known for their "loose" policies on age verification.
When teams register to attend the NYFC, teams are asked basic info on their team regarding their age cut-off, oldest birthdate player, heaviest player. This gives us a thumbnail on the team to ensure they will be "matchable" to a standard group of teams who historically attend, Even unlimited weight teams are REQUIRED to put their kids on a scale to ensure we have an accurate estimated weight for each player because match-ups in these divisions still revolve around playing teams with similar age, similar weight and importantly, similar talent in the month prior to attend. The rostered players are all input into a customized computer program that seeks all player info from the teams trip manager. In the weeks just prior to the event, teams DOUBLECHECK their birthdates and weights they have listed . This can sometimes catch a team that stupidly may have listed their preseason weights or had other inaccuracies.
Upon check-in at the event, every player steps on an electronic scale and the weight of the player is written down. Teams also supply their age verification book which is required to be kept by the team on site at all games. If the player clears the age and weight portion, he/she is then given a hospital ID band to wear on their left ankle and is cleared to play. This color coded band denotes what division the team is allowed to play within. The team then IMMEDIATELY goes into the picture room to have their team photo taken, This super high resolution photo can be used for identification later if anything is in question.
Stadium Supervisors attend every game with game rosters with both teams attending. The players bands are checked prior to the game to ensure the team is authentic in front of the opposing coach should they desire. The stadium supervisor watches the game and looks for any clues that may tip off that a team is using an illegal player. We use the team photo and the internet and other identification tools in advance and sometimes during the event. With all this in place, you can see why a team that has a penchant for cheating would simply go find another event before they would try to use a player who is not cleared to play in the NYFC.
Question #25 - We're Pretty Sure We Want to Attend the NYFC...What's the First Step?
That's easy....download the NYFC Invitation from the website and register on-line through the amazing NYFC Myteam website. You can also contact Sports Network if you still have any questions! We also recommend teams find other groups in your area that have attended the NYFC previously and ask them for their unbiased opinions. We are sure after you look around, you will see why so many teams annually work to make themselves a part of this great football weekend.
THE NYFC IS NOT FOR EVERY GROUP. IF YOU DON'T HAVE STRONG SUPPORT, CLEAN FOOTBALL PLAYERS, & SOLID COACHING, THIS EVENT IS LIKELY NOT FOR YOU! Coming to the NYFC will take hard work most likely...but it will also likely be the most rewarding and satisfying thing you will ever be a part of in your child's athletic career.