MAIN CORPORATE PAGE OF
SPORTS NETWORK INTERNATIONAL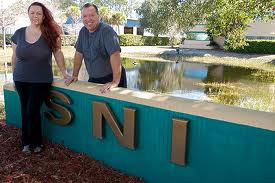 Samantha Ste. Claire (left) and Justin Gates (right) are shown above at the headquarters for Event Manager Sports Network International.
Welcome to the corporate homepage for Sports Network International, Inc. After over 25 years in the same location, SNI has recently moved from our historic home in Daytona Beach, Florida just a few miles north to Ormond Beach, Florida still in Volusia County. We are still just North of the Daytona International Speedway just a few more miles up the road with easy highway access to both Interstate 4 and Interstate 95 to get across the state quickly.
SNI has been in business for decades and began the modern era of the company in 1982. SNI is run in the manner of a not-for-profit company with all proceeds used to pay for event expenses and salaries with no monies carried over from year to year. SNI also maintains a not-for-profit arm that facilitates scholarship & educational opportunities for deserving youngsters. Overall, our corporate philosophy is to ensure all youngsters and their families are treated with respect and caring for their sporting efforts involving the future leaders of this great nation.

On the left, you can click on many different informational links. These links can retrieve not only detailed information regarding the history of SNI, but a detailed paper on what SNI does, direct access to the biographies of the principal employees of SNI, and access to the main web page portals to the numerous events hosted by SNI across the United States.
Importantly our complete policies and procedures homepage is accessed here regarding SNI website usage, SNI privacy policy and video recording regulations at SNI events. And of course, a complete contact us page that provides insight into reach anyone here at SNI. Most importantly, if you have any questions or concerns, simple contact us.
Please look around and click the link at left if you need detailed contact information for anyone at Sports Network International, the nation's leader in youth sports event production and promotion.