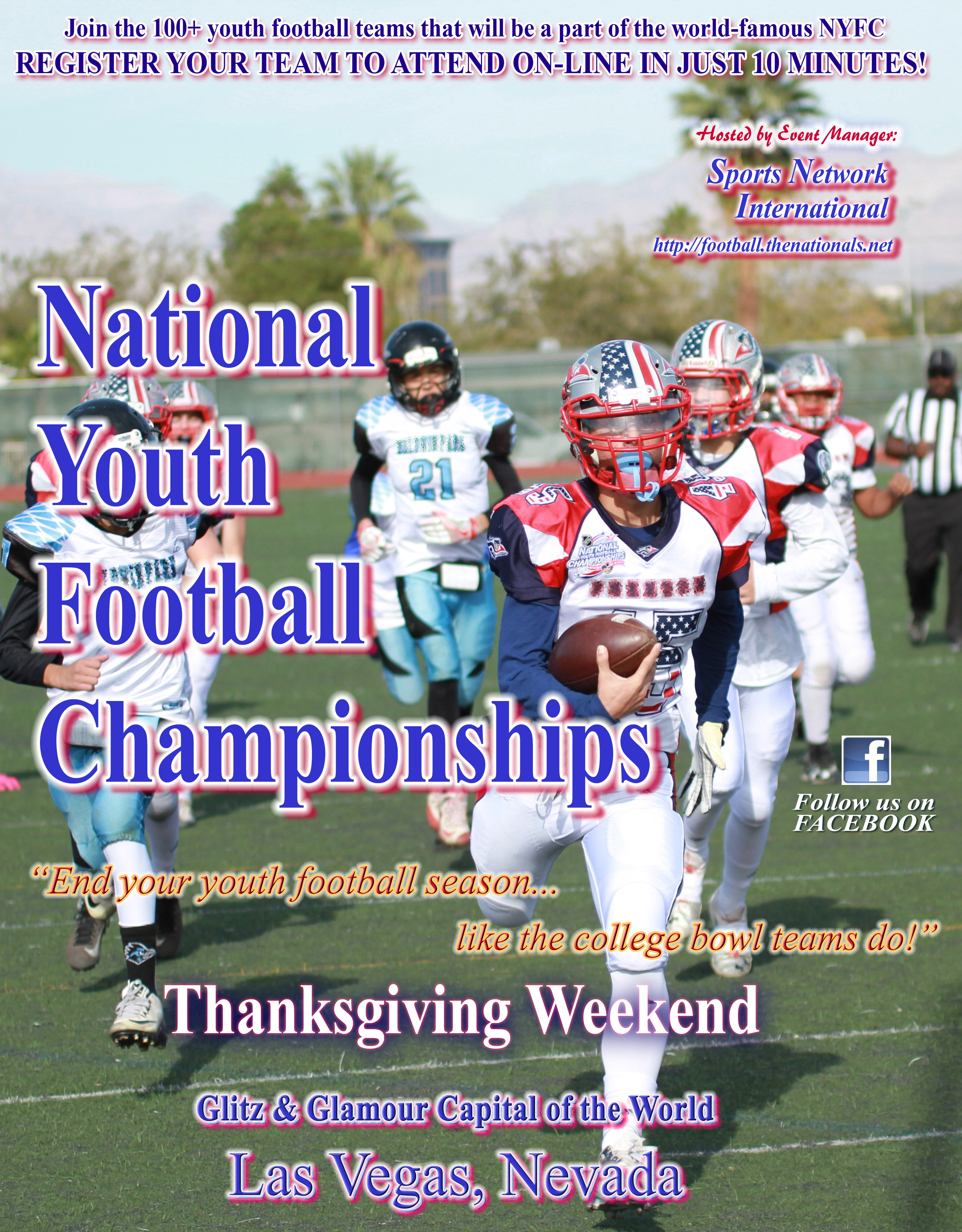 THE OFFICIAL NYFC INVITATION
CLICK HERE TO GET YOURS RIGHT NOW!
Every year in mid-Summer, the official NYFC invitation rolls off the presses and gets sent to coaches, teams and leagues across North America and even a few other countries representing over 10,000 youth football organizations. While many of these invites are delivered through the mail to the many teams who have attended the NYFC competition over the years and to other preferred teams who request it, even more copies are mailed and emailed to coaches, league officials and even parents who contact SNI and simply ask to receive it! New teams and leagues are popping up every year and when these leagues talk with teams about where they get the best football for their money, you know the NYFC tops the sideline chatter!
Sports Network International realizes the financial realities of travel, as well as the ability for youngsters to not miss school (the main reason why the NYFC is held during the Thanksgiving Weekend!). Many large national associations now produce a "True National Championship" game. This tournament format often requires the youngsters to play 16 or more games in a single season (far too many at this age), and almost always leaves the teams who are fortunate enough to win scrounging to raise tens of thousands of dollars on almost no notice to play in a "Championship Game" (oftentimes against a local team because the other "Champion" couldn't raise the funds to attend!). By attending the NYFC, teams will have months to plan and prepare to attend. The event NEVER makes you stay in overpriced hotels! The games are held when kids are out of school. And the scores and competition are often superior than the 36-6 games we too often see in these other "Championship" tournaments.
Every youth football program in the nation in good league standing is eligible to attend the NYFC! We annually have AYF, Pop Warner, AAU, PAL and of course the majority of attendees are independent neighborhood and community football programs. Some teams do re-name themselves to come here and we have a solid company who can provide insurance to your team should you have league and/or personal insurance that will not be in effect for the NYFC event. While the event is not an all-star competition, SNI has many ways to ensure every team who wishes to attend can do so safely and effectively. Please contact SNI for details on exactly what teams can attend the NYFC.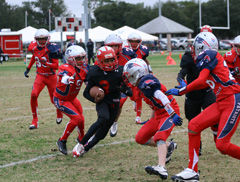 The invitation has an eye-catching cover page and is filled with information on the event. It is designed to give you the keys to make the firm decision to attend then NYFC and why it remains the finest youth football event available anywhere! Interested teams should read the invite very carefully and email or call SNI if you have any questions. Generally, the information contained within the official NYFC Invitation, along with the information filled NYFC website, provides interested teams all of the knowledge and paperwork they need to register and attend this exciting competition.
Any team wishing to receive their own copy of the official NYFC Invitation can download it here, or they can contact SNI to be placed on the preferred list of programs who receive a copy by mail each and every year. Doing this, you can receive our NYFC Newsletter Updates!