U.S. Army JROTC Cadet Command sponsored
Rocky Mountain Drill Classic
"The Gateway to Western Drill & Ceremony"
Paperwork Headquarters

The following materials are the sole property of Sports Network International and the United States Army Cadet Command. Use of these documents for any purpose other than by schools attending this specific drill competition are a violation of United States copyright laws. Permission to use these documents for any other purpose must be obtained by contacting .
Please click below on the materials you need:

Rocky Mountain Drill Classic
PRE-EVENT ENTRY PAPERWORK
NOW POSTED - Please review before entry!

Official Event Permissions Letter
(for submission to school boards for permissions to attend)

Official Event GENERAL SOP
ARMED SOP / UNARMED SOP

Current SOP Updates

Official Event Score sheets

RMDC Inspection General Info & Procedures

Official Event Floor Diagrams

Rocky Mountain Drill Classic
SCHOOL FOLDER
is now available to teams
ONCE THEY REGISTER TO ATTEND
from their MySchool Website
beginning DECEMBER 1

All REGISTERED schools have full access
to their submitted school paperwork and
team financial accounting on-line.

NO MAILING ANYTHING to SNI!

REGISTERED? GO TO THE
MYSCHOOL WEBSITE
Review the documents above, ask questions, but when you are ready to grab a competition space...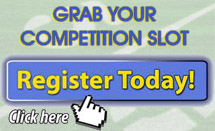 ---
Learn Greatness from the BEST!

NATIONALS DRILL CAMP
It could shape your
JROTC career forever
For Information on:
Sports Network International, the Company
The Nation's Finest Producer of Youth Athletic Competitions

Send Information, Suggestions or Questions regarding any SNI event to:


/*********************************************** * Encrypt Email script- Please keep notice intact. * Tool URL: http://www.dynamicdrive.com/emailriddler/ * **********************************************/ var emailarray6554= new Array(100,114,105,108,108,64,116,104,101,110,97,116,105,111,110,97,108,115,46,110,101,116) var postemail6554='' for (i=0;iJustin Gates') - Sports Network International

Site updated CONSTANTLY by Justin Gates - Sports Network International
388 Muddy Creek Lane / Ormond Beach, Florida 32174 / 386/274-1919


To the Rocky Mountain Drill Classic Homepage

To the SNI Main JROTC Home Page



Here are some GREAT JROTC
FUNDRAISING PROGRAMS
available for your program!