Looking to make a trip to the NYFC less expensive? Well, in partnership with official NYFC hotels, we have a great way to save your program
HUNDREDS OF DOLLARS
for groups looking to bring multiple football teams to the NYFC. Talk up the NYFC to other age and/or weight groups in your organization and YOU CAN SAVE $$$!
The Offer is Simple...No Coupons... Nothing to Mail In...Just Money Back to YOU!
We at the NYFC like solid football organizations and solid cheer groups. They make our event the special gathering it has become for over 40 years. And having multiple football teams FROM THE SAME ORGANIZATION is THE BEST WAY to have a GREAT tournament. Organizations who value clean play, solid coaching and strong parent support do so generally from the youngest teams to the oldest teams....and we want to give those groups a break that bring more than one of these teams to the NYFC.
LOCAL TEAMS, WE HAVEN'T LEFT YOU OUT OF GETTING GREAT DEALS!
CONTACT SNI TO TALK TO US ABOUT YOUR LOCAL REDUCED COST OPTIONS!
The NYFC LOVES to host groups who bring multiple football teams and so do the hotels! While there is no requirement that all of the multiple teams stay in the same hotel, the hotels know this is generally what happens. Therefore, SNI has worked out an agreement with ALL NYFC Rooming Service Hotels to all groups bringing multiple football teams traveling to the NYFC from the same organization who attend the event through the Standard Package Plan (generally, teams with different age players) to receive a CHECK for $200 back to EACH TEAM immediately after the event!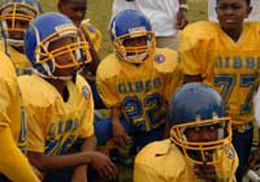 To qualify for this offer, an organization must bring two or more football teams to the NYFC. Then, if each of the teams identify themselves and book their rooms for their players, coaches and/or parents at one of the many NYFC Host Hotels THROUGH THE NYFC CODE LISTED ON THE WEBSITE, they qualify (minimum SEVEN ROOMS per night for FOUR NIGHTS during the event OR 28 total room nights per team). In this way, the teams that support the NYFC hotels get a check for #200 per qualifying team after the event. This can pay back the NYFC Registration Fees for your team or pay for a great end of year party, trophies, your call! SNI receives confirmation from the hotels within a week after the event and the checks are mailed the beginning of the following week! It is just that simple!
To ensure all teams are organized and prepared to attend and play their games as scheduled, SNI requires all teams to submit their contact information on where they will be staying in advance of the event. Remember, teams can stay at friends houses, campgrounds, RVs, it doesn't matter - whatever works BEST for your team! But those teams who stay in the NYFC Host Hotels (and bring a younger or older team) will be identified in advance and will have $200 per team coming back to you after the competition.
ALSO REMEMBER, as an added bonus teams with larger football rosters can gain additional benefits and discounts by attending the NYFC. Just click here under LARGE ROSTER DISCOUNTS to see if your team can qualify for this as well and learn more.
This offer is not valid for teams attending through any other discounted or "local" package plan(s). This rebate is paid immediately after the event after we get confirmation on rooms used by your group.