Teams are strongly encouraged not to make any hotel reservations until their program is 100% committed and registered to attend the event! Hotels, buses/car/airlines etc. should be done ONLY AFTER your group has registered and been accepted to attend the NYFC. However, the rates and availability of rooms are so good from the NYFC Rooming Services listing below, we have been told that we are getting youth groups not even attending the NYFC that are booking rooms (heck, we can't blame them!) Because of this, SNI is currently working hard to obtain even more quality rooms at discounted prices - so CHECK BACK OFTEN for new selection!

As always, organizations are welcome to acquire their own hotel rooms, camp sites, etc. anywhere they choose, but we strongly recommend these fine hotels that are strong NYFC supporters. These properties welcome your business and more importantly, are in good locations to get around the town and avoid traffic and are very family friendly so you will enjoy your stay! Ensure you use good common sense chaperoning rules with your group and you will have a safe, enjoyable experience!

NYFC Headquarters Hotel-Rio All-Suites Resort

Call toll-free: at (888) 746-6955

ROOM RATE: Mon-Thurs $39/night
Fri-Sat $93/night, Sun $39/night

1-4 occupancy

Does not include required $10/night resort fee

Every room is very spacious!!!

MUST USE BOOKING CODE

"SRNYF3"

You must use this booking code or the link below for the reduced resort fee of $10 per room/night (normally $40)!

Also you will not be charged for extra adults in the room (up to 4)!

CLICK HERE TO BOOK ROOMS

Last Date for this Rate: Nov 3 (Max 4 people per room)

(You can always try after Nov 3, they might still honor it)

THIS IS A GREAT DEAL!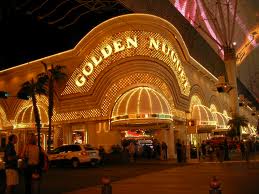 Golden Nugget Hotel & Casino
129 East Freemont St.
Las Vegas, Nevada 89101
Reservations: 800/634-3454
40 rooms available, Envelop yourself in luxury and understand why the Golden Nugget has earned the AAA Four Diamond Award for 32 straight years. Located downtown, the Golden Nugget pool is now "The Tank" - a $30 million pool & entertainment complex complete with a shark tank AND a 3-story waterslide. Downtown has the awesome Freemont Street Experience, blending vintage Las Vegas with high tech wonderment, live entertainment and more to create an attraction that rivals the famed Vegas Strip. Free self parking and valet parking. The Carson Tower features spacious deluxe rooms with marble bathrooms. All rooms are over 360 sq ft. and have new pillow-top mattresses. Upgrade pricing is shown for the Gold Tower and Rush Tower rooms.
CARSON TOWER: $59 (Wed), $89 (Thurs), $89 (Fri), $89 (Sat)
1-4 occupancy. (Gold Tower Upgrade +$20/night, Rush Tower Upgrade +$30/night).
To get this rate, team must state "Booking Code: GLNYF21"
CLICK HERE TO BOOK ROOMS
Last Day for this Rate: October 25th
Rate does not include required $15 per yax per night resort fee. (This fee is normally $32/per day but has been discounted for our clients)


GREATER LAS VEGAS AREA
Sports Network has located hotels throughout the greater Las Vegas area
that welcome our teams and provide great value and awesome hotels!
The Flamingo
3555 S Las Vegas Blvd
Las Vegas, Nevada 89109
(888) 373-9855
100 rooms available. The Flamingo Las Vegas hotel is a self-contained casino and resort offering everything an adventurous vacationer could want: A tropical Wildlife Habitat, Go Pool - a 15-acre Caribbean-style water playground and select rooms with fabulous views of 550-foot-tall The High Roller. Set on the famous four corners of Las Vegas Boulevard and Flamingo Road, this Las Vegas hotel combines heart-pounding excitement with hospitality and service that's second to none.
ROOM RATE: Tues-Sun $93/night 1-4 occupancy.
Above rate does not include DISCOUNTED required $10/night resort fee.
To receive this rate, use booking code "SFNYF3"
CLICK HERE TO BOOK ROOMS
Last Day for this Rate: Nov 3
(You can always try after Nov 3, they might still honor it)

---

Last Day for this Rate:November 7th

---

Circus Circus Hotel & Casino
2880 S. Las Vegas Blvd
Las Vegas, NV 89109
(866) 755-7776 xt 1


25 rooms available. This iconic strip hotel featuring free performances by dazzling aerialists, high-wire walkers, trapeze artists, and clowns every half-hour, as well as an indoor, five-acre theme park, and over 100,000 square feet of casinos, this family-friendly hotel offers all the fun and excitement of the big top. Easy access to I-15 gets you in and around the entire city very quickly - just 8 minutes away from the Headquarters Hotel.
**Discount tickets to the Adventuredome available through the NYFC. Check with your Trip Manager for details.**
Skyrise Tower: $49 (Wed),$80 (Thurs), $95 (Fri) and $65 (Sat)

(Above rates do not include the required $29 plus tax per room per night RESORT FEE! - Normally $33/night)
(Per contract 3-4 adult in room are free, max 4 people per room allowed)
To receive this NYFC rate click below and use the code "CW11NY3"
CLICK HERE TO BOOK ROOMS
Last Day for this Rate: November 8th

---

New York New York Hotel
3790 S Las Vegas Blvd
Las Vegas, Nevada 89109
702/597-7106
25 rooms available. Located on the corner of Las Vegas Blvd and Tropicana. This hotel is in the MGM Resort family. Enjoy some no-nonsense rest and relaxation away from the hustle and bustle of The Strip in our enhanced 350-square-foot Park Avenue Queen room. Each NON-SMOKING room includes 2 queen beds with a pillow-top mattress, 40" flat screen, electronic room safe and marble bathroom with a glass-enclosed shower.
ROOM RATE: $37 (Tues-Wed), $57 (Thurs), $104 (Fri), $87 (Sat)
The above rates do not include a required daily discounted resort fee of $33 per room plus tax (normally $37), per night for this group. All rates are for 1-4 in a room. When booking online, only the first night's room and tax will be charged at time of booking, the resort fees and remaining room/tax will be charged upon check-in.
To receive this NYFC rate CLICK HERE TO BOOK ROOMS
Last Day for this Rate: October 30th


CLICK HERE TO BOOK ROOMS
Last Day for this Rate: November 5th


Last Day for this Rate: November 5th


Last Day for this Rate: November 5th

---

The Linq Resort & Casino
3535 S Las Vegas Blvd
Las Vegas, Nevada 89109
(866) 523-2781
100 rooms available. The Linq Resort & Casino puts you in the center of 1 of the most exciting and entertaining places in the world. The Las Vegas Strip is right outside, and across the street are Caesars Palace and Margaritaville. The airport is 4 miles south. This hotels comfortable-yet-understated guestrooms include access to WiFi and satellite TV, with video game consoles and pay movies.
ROOM RATE: Tues-Sun $93/night 1-4 occupancy.
Above rate does not include DISCOUNTED required $10/night resort fee.
To receive this rate, use booking code "SQNYF3
CLICK HERE TO BOOK ROOMS
Last Day for this Rate: Nov 3
(You can always try after Nov 3, they might still honor it)

---

Excalibur Resort & Casino
3850 S. Las Vegas Blvd
Las Vegas, NV 89109
(702) 597-7777
65 rooms available per night so act quickly! After millions in upgrades, the Excalibur may be the destination you seek for a fantastic season ending team experience. Stay in royal accommodations in the heart of the Las Vegas Strip. Excalibur offers everything you would expect from a Las Vegas hotel, from top-notch dining and entertainment and non-stop Las Vegas casino action for the grown-ups as well as a year-round pool and the world-famous Excalibur arcade featuring the Fun Dungeon which offers over 150 games, including 16 Carnival Midways, 19 Prize Redemption Games, 65 Arcade Games, 10 Sports Games and 83 Redemption Games! Easy access to I-15 gets you in and around the entire city quickly - just 5 minutes from the Headquarters Hotel. The Las Vegas Strip is right outside. No hotel in Las Vegas at any price has this combination of fun for the kids, coaches and parents and first class surroundings
ROOM RATE: $25 (Tues-Wed), $39 (Thurs), $85 (Fri), $75 (Sat)
all rooms are 1-4 occupancy.
The above rates do not include a required daily discounted resort fee of $31 per room, per night for this group (Normally $35/night)
To receive this NYFC rate CLICK HERE TO BOOK ROOMS
Last Day for this Rate: October 30th

---

Arizona Charlie's Decatur
740 S. Decatur Blvd.
Las Vegas, Nevada 89107
reservations (800) 342-2695
25 rooms available, Property is very affordable and one of the top local casinos in Las Vegas. Arizona Charlie's Decatur offers the best gaming choices in town and plenty for kids and adults to do. The casino includes a 24-hour bingo parlor and the city's first enclosed, smoke free slot area. Grab a bite at one of the many restaurants or enjoy nightlife with live musical entertainment every Friday and Saturday night. Rooms have amble amenities. Conveniently located close to The Strip and the highway to get to all NYFC fields quickly.
ROOM RATE: Tues-Thur $79, Fri-Sat $99. 1-4 occupancy.
The above rates do not include a required daily discounted resort fee of $16.95 per room, per night for this group (Normally $25.99/night)
To receive this rate, you must use code"C-NYF23 or National Youth Football"
Last Day for this Rate: October 28th


Last Day for this Rate: November 1st

---

or CLICK HERE for online reservations
Last Day for this Rate: October 27th

---


Last Day for this Rate: November 5th


Last Day for this Rate: November 5th

---
MORE HOTELS LISTED PERIODICALLY - CHECK BACK OFTEN!
- All items listed are considered accurate at time of listing. Please contact all hotels listed directly to ensure no erros or omissions have been made -



Official Restaurants
of the NYFC!
EAT WELL - SAVE BIG!
Click Image for group form

All rates listed are exclusive of room tax (currently 12%-14%) or other fees, service charges and other regulations. PLEASE call the hotel Group Sales Department Monday to Friday during normal business hours if you are not sure or at all unclear about what total extra charges are in place for your stay. We apologize but Las Vegas has now joined the growing trend of cities that are now charging all sorts of fees and many times, it is difficult at first glance to establish what the cost of the rooms will be per night!

All questions about any of these properties including their pricing, etc. should be directed to the hotels directly. Several have continental breakfast and other amenities. All rooms are first come, first served. ALL OF THESE ROOMS HAVE A CUT-OFF DATE SO CALL EARLY!. Each of these hotels are eager for your business -- please call them today to reserve your rooms!

For specific directions and locations for the above properties, you may go to the website for each of the above listed hotels. To get driving directions and helpful maps of the area, WE ALWAYS RECOMMEND MAPQUEST. Again we always recommend that you leave with PLENTY of time to get where you are going during the NYFC. Traffic can be quite heavy and speeding is a BAD idea. BE SAFE!

Updated July 1, 2023