DRILL HALL OF FAME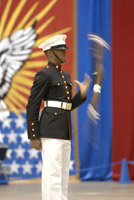 2022 INDUCTEE OF THE MILITARY DRILL HALL OF FAME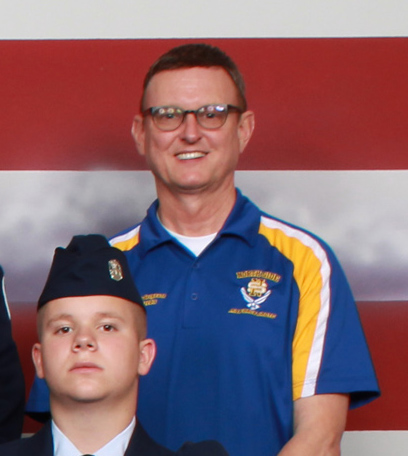 With over 30 years in active duty Air Force Chief Master Sergeant R. Wayne Barron knew what it took to gain perfection. While serving as an Air Force Recruiter in Little Rock, AR, a few schools had JROTC programs. He worked with one of those schools after hours as a coach. It was here he learned he had both a knack and a deep love for teaching drill. And one random volunteer request years before seemed to change his life forever. "While on active duty I was asked to judge at a local AFJROTC drill competition in Arizona in 1996 and it was at this time I knew what I wanted to do when I retired from active duty" said Barron. "When I retired from active duty, I pursued one job - AFJROTC at North Side High School. The school was about 30 miles from my parents. When I began working at North Side, the unit didn't have anything going on but a Color guard team that presented The Colors at home football games. I had a lot of learning to do. I attended the Nationals Drill Camp. I took those skills back to my unit and almost overnight, our drill team won numerous local drill competitions. North Side High School's Blue Thunder Guard was a force." And the lives of hundreds if not thousands of cadets were changed forever.
After 3-years of dominating local drill, they set their sights on "The Nationals" in Daytona Beach. Attending first with a color guard unit, they entered the Open Color Color Guard event. This was dead in the path of the rarely beaten Alamo Heights powerhouse teams who won the event seven times! North Point Blue Thunder Color Guard took all their knowledge, confidence and practice and indeed slayed that dragon capturing the 2012 OLCG National Championship! The next year in 2013, the team competed with distinction in the massively competitive Challenge Level of the Nationals as an entire drill team, picking off several top 5 trophies.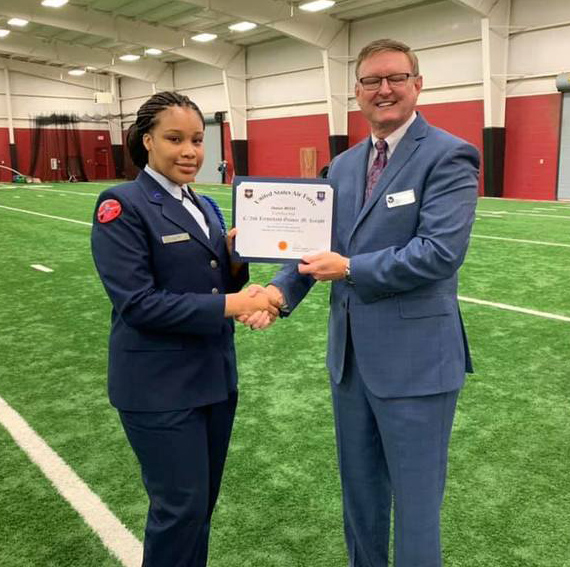 Leaving the school in later 2014, Barron was hired away to an position where his passion for military drill would truly shine brighter on a bigger stage. He was hired as one of only seven Air Force Regional Directors overseeing nearly 100 schools throughout the greater geographic area he had once dominated on the drill floor. But this is the arena in which his personal background as an instructor gave him a firebranding passion and unique understanding of what drill can do not only for a program, but most importantly for a cadet to build on for the rest of their lives.

Among CMS Barron's many duties is to work closely with the schools, conducting unit inspections and answering their questions and concerns. He generally asks every school about the scope and caliber of their drill team among numerous other things he focuses on. For some, it is just a color guard. For others it is an entire team. But he is there to explain the unique benefits drill provides, there to support and there to reward those who wish to walk that rigorous path. He greatly understand forming a nationally competitive drill team is a commitment that greatly exceeds one of most every other co-curricular that can be undertaken.

But he also has walked that walk and understands the benefits far exceed the others activities a program may choose. And by a stoke of good fortune, Sports Network International decided on Dayton, Ohio as the home for the Air Force Open Drill Nationals in 2015. And providing that bigger stage for so many nearby Air Force JROTC programs only lit a bonfire under a flame he started and kept burning for years prior during his tenure.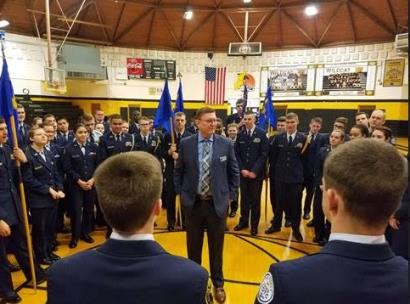 Currently Chief Barron continues his essential work in a way few could do. Sometimes his passion for all things Air Force JROTC but especially military drill has put him on the outside of his peers. Working with those who have never experienced the change in cadets, in a school that can only be brought forth through drill, it is always difficult to ask others to see when their eyes have never been opened. To remember what JROTC is supported to be about as opposed to what others sometimes want it to be. To change that, he has spent almost a decade bringing members of his command to the Nationals in Daytona and other drill events to see cadets competing at the highest levels. Working intensely and assisting teams - some as far away as Alaska - to be a part of drill & ceremony competitions to give their cadets that feeling of pride in hard hard when their efforts deserve it. In a phrase, no member of this illustrius world within the Drill Hall of Fame has the unparalleled background of drill work on active duty, retired within JROTC, then keeping the drill flame burning at the Headquarter's Level that CMS R. Wayne Barron has done for decades and continues to do every damn day. His inclusion has been a unique mosaic of drill passion, drill prowess and drill progress it puts worth within individuals who push to the highest levels. It is a great honor to induct this great drill leader into the National Drill Hall of Fame.