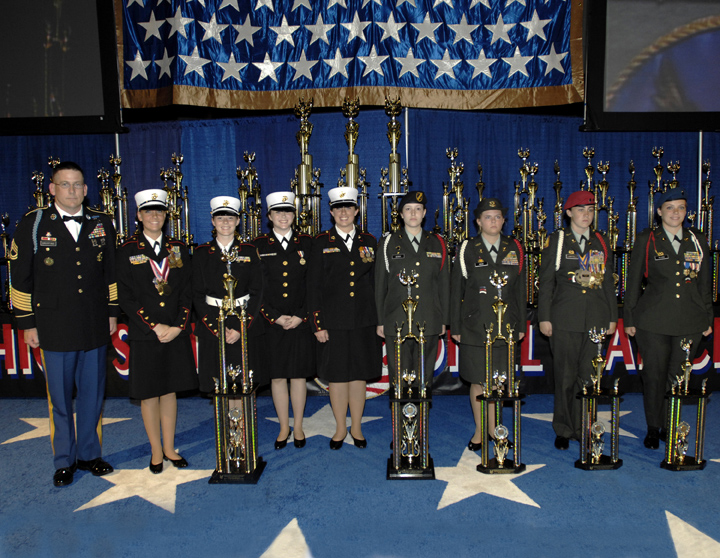 Known throughout the United States since 1987 as the leading producer of amazing high end trophies for military competitions as well as patriotic eagle trophies for individuals, Sports Network International has begun this Nationals Award & Trophy website to allow access to these same high caliber awards all at prices and quality that local trophy shops simply cannot match.
Why are the trophies so POPULAR?
ALL trophies include free custom engraving with gold lettering on a black plate standard (most trophy stores charge MORE than the cost of our trophies just for the engraving!), Shipping fees are reasonable and reduced per trophy with increased award purchases.
Previously available only to teams competing within the National High School Drill Team Championships in Daytona Beach, Florida, these special Eagle Trophy awards are now available to all patriotic and military organizations looking make the perfect end-of-the-year presentation for entire drill teams, a school/organization administrator, a booster supporter, graduating cadets, outstanding employees, retiring instructors or other worthy individuals.
Any quantity of these Eagle trophies can be ordered. All orders can be done on-line with a fax or email submission to ensure the trophy plate is cut to your exact specification. These amazing awards are sturdy yet elegant and come in two main styles with a variety of sizes. For a complete overview of the trophies available, please click on the appropriate link on the left side of this page.
Please take the time to review the information found on this website. If you have any questions, please click on the link for contact information and we can assist you in anything you need.