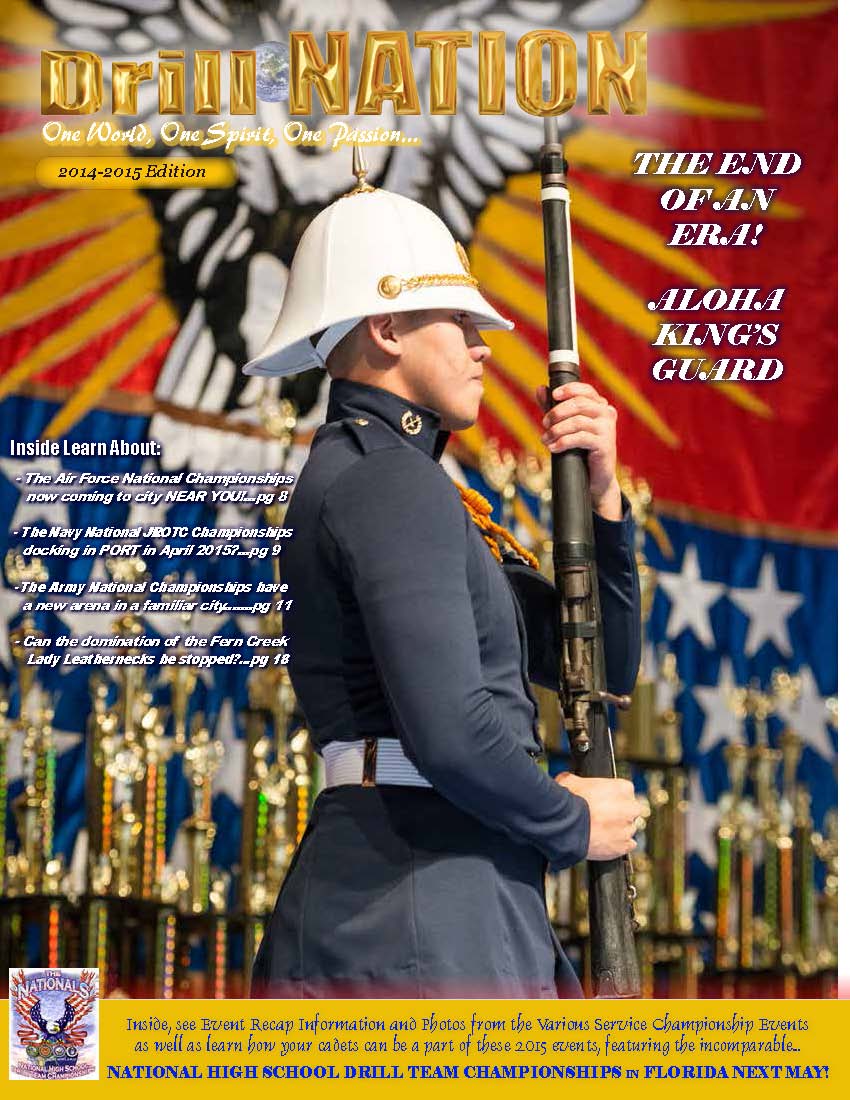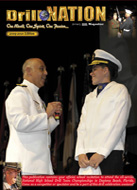 DrillNATION Magazine
(formerly IDR Magazine)
Official Drill & Ceremony Publication of
Sports Network International JROTC Drill Competitions
Frequently Asked Questions

These are some of the more repeated items that are asked
about our favorite publication, the DrillNATION Magazine.
QUESTION #1 - Who Gets a Copy of DrillNATION?
Every year in late September, a single magazine is mailed by Sports Network International to every JROTC unit in the world.
QUESTION #2 - Can I Buy My Own Copy?


Yes! Last year, SNI began to make available copies of IDR for sale on our website. Check it out if you are interested in having your own copy of this fun and fact-filled magazine.

QUESTION #3 - What Did "IDR" Stand For?
Infantry Drill Regulation! A really silly name for the publication that represents many all-service JROTC competitions hosted by Sports Network International. This was the original name when the publication began in the mid-80's and it "stuck"! It was suggested by an Army Colonel "who shall remain nameless" and tradition dictates that name stayed...but every few years, we still looked at changing it! Finally in the 2008-2009 publication, we made the switch - and I'm finding IDR throughout the website to this day and changing it to DrillNATION!

QUESTION #4 - How Do You Determine What Picture Goes on the Cover?
Oh that's easy! We take all the pictures that are shot that are in focus, that are turned 90-degrees (tall, not wide). We look at them all and try to find the one that seems to best capture the overall event flavor for that year! A very subjective process, but a very fun process for all of the SNI employees.
QUESTION #5 - What About All the Pictures Inside the Magazine?
That is a different story. We try to display a wide variety of teams. Rural teams, Suburban teams, inner-city teams, male teams, female teams, all-four service branches, showing a little piece of the entire event.
QUESTION #6 - Why Do You List the Results for the NHSDTC Competition in DrillNATION When They Are Listed Completely on your Website?
Another great question! The internet is quickly becoming an extension of the magazine. More and more information that is listed on full pages within DrillNATION will migrate in even more detail onto the SNI website. However, some units and some people do not have the internet as a daily portion of their life. Also, many people still feel that you cannot take the place of seeing the pictures on paper and feeling the magazine in your hand by staring at a computer screen. Know that your point is well made but the DrillNATION will always maintain some information that is also found clearly on the SNI Homepage.
QUESTION #7 - Why Did the Magazine Get So BIG in 2006?
That's easy....so many great schools, companies and foundations wanted to ensure they got their message out directly to the JROTC cadets around the world, our standard 24 page magazine could no longer sustain so much information! The decision was made to go ahead and open the publication to these fine groups for their inclusion. Their advertisements help to pay the rising costs of producing this magazine and their message is very noteworthy.
QUESTION #8 - How Do You Decide Who Gets to Advertise Within the DrillNATION?
DrillNATION gladly accepts available advertising from entities we believe will provide beneficial services or information to the general drill community at large. The decision is generally very simple as most every group or organization that calls is an outstanding group that adds greatly to the magazine. Only in very rare instances have we decided to decline advertising. For detailed info on advertising within DrillNATION Magazine, please look through the on-line advertising home.
QUESTION #9 - I See How to Buy the Current DrillNATION Magazine, What About Back Issues?
Unfortunately, DrillNATION Magazine is sold for one year only. At the end of that year, if we have any copies remaining, extra copies are utilized and sometimes given away to teams, parents and spectators at the National High School Drill Team Championships in Daytona Beach, Florida. A few copies are kept over the Summer but at that point, we clear out with the old and in with the new! While we save a few copies for the archives, we no longer sell copies of the previous magazines when the new magazine is published.
QUESTION #10 - What If I Have a Story Idea or Want to Make a Suggestion or Comment?
We welcome all feedback and input, good and bad. Some great story ideas have come from the readers around the world and we always thank them for such suggestions. The magazine never attempts to be controversial but as you can imagine, doing something for 20 years has provided much great feedback in both the positive and the negative on some things that have been written - and we have learned from each response! Please feel free to email in our office and he will review your note and reply in kind.

Site updated CONSTANTLY by Justin Gates - Sports Network International