Welcome to all Ft. Knox Raider JROTC Cadets, Instructors & Parents:

The U.S. Army JROTC Raider National Competition is a bold new initiative bringing the Army Raider Championships to "America's First Fort", Ft. Knox, Kentucky for a blowout weekend of Army pagentry. This venerable Army installation is the home of Army JROTC and will be a fitting backdrop to showcase the hard working Army JROTC Raider teams attending. The Raider Nationals Weekend will host both an Army Masters and Challenge Level Raider Championship, along with a seperately trophied all-service competition event. While the competition field is still being formulated, it is safe to say that this event will maintain the largest geographic spread of any Raider competition event held in just their first year!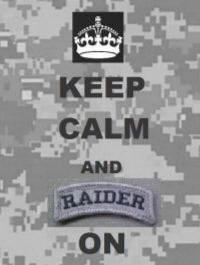 The ARMY MASTERS LEVEL of the Weekend is a two-day event featuring many of the best Male, Female and Mixed Army JROTC Raider teams. The single-day ARMY CHALLENGE LEVEL event will also brings together the smaller and younger programs in the Male, Female and Mixed Divisions to compete with programs on a more equal footing. Also, the competition will maintain an ALL-SERVICE EVENT RAIDER EVENT for non-Army teams. All levels maintain FIVE competition events that are challenging and exhausting. Adding to that, Masters Level Army programs will be a part of a demonstrator "Mystery Event" (not scored) as well as a closing day Buddy Run that will be without parralel the most arduous test of Raider excellence in all of Raider! All of this activity will lead up to a Friday afternoon awards ceremony and a Sunday afternoon awards ceremony that will be a fitting culmonation for these hard-working cadets.
The Army JROTC "Raider Nationals" will serve as the official Army Championship for the top Raider program nationally. This event will give a singular spotlight on their best and brightest in the world of Raider.
As great as the Ft. Knox Raider event will be in this the inaugural year,
it has all the earmarks of something that will definitely
continue to grow and be amazing for many years to come.
From rock bands to skydiving teams and everything in between, this weekend is quickly shaping up to be the complete, mega-hooah world of the Army! Billeting, base entry, dining and every other aspect of the event is being feverishly worked by a team of soldiers and civilians to ensure both competitors and spectators have a special time during this memorable weekend. Every waking minute will have something everyone with your group will enjoy. Make sure your team is a part of this event before spaces run out!

Attention ALL Raider Teams
Compete on the BEACH this MAY!
Click HERE for more information!

Main SNI Military Page

Please read the

SNI Copyright Policies

Copyright 1997-Sports Network Int'l

All rights reserved.
Any and all duplication, publication
or use of any materials from this site
without the expressed written permission
of the U.S. Army Cadet Command or SNI
is strictly prohibited by current law.


Download the
Army Mountaineering Manual
U.S. Army FM 3-97-61.pdf