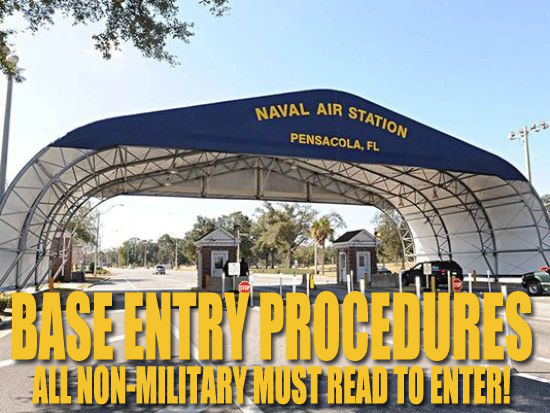 Click image for info!
The Navy Nationals are open to the general public and especially to the parents and other event followers. Because the event is held on a weekend, traffic is very light in the area of the competition however a large crowd is expected so arriving early is always appreciated.
ALL ATTENDEES ARE STRONGLY REMINDED to review the new strict BASE ENTRY PROCEDURES! The event is held on a working military base so entry is tightly controlled under new, more stringent procedures that require advanced vetting. EVEN WITH ADVANCED VETTING AND PASSES OBTAINED, ALL THOSE WITHOUT MILITARY OR OTHER DoD IDENTIFICATION WILL BE REQUIRED TO HAVE PHOTO ID (with the exception of passengers in your vehicle under 18). Please watch your speeds on base especially as this is tightly controlled by NAS Pensacola. Parking is plentiful around the facilities again due to the weekend nature of the bulk of the event and signage on site/maps below will help once inside the base gates to find the main competition areas.
---
VENUE LOCATION & DIRECTIONS:
The competition site is on the massive NAS Pensacola base. The event is held predominantly in the
AO Hangar and the athletic field, located directly across from the chapel.
Here are the base MAPS & DIAGRAMS to assist you in finding the competition sites.
Please use the following link to plot your Driving Directions from Mapquest directly to the venue from your home or school.
SETTING YOUR NAVIGATION SYSTEM:
The physical street address for NAS Pensacola works well with Garmin, Tom Tom, etc.:
280 Taylor Rd, Pensacola, FL 32508
---
Send Information, Suggestions or Questions regarding any SNI event to:
- Sports Network International

10 Broadcreek Circle / Ormond Beach, Florida 32174 / 386/274-1919