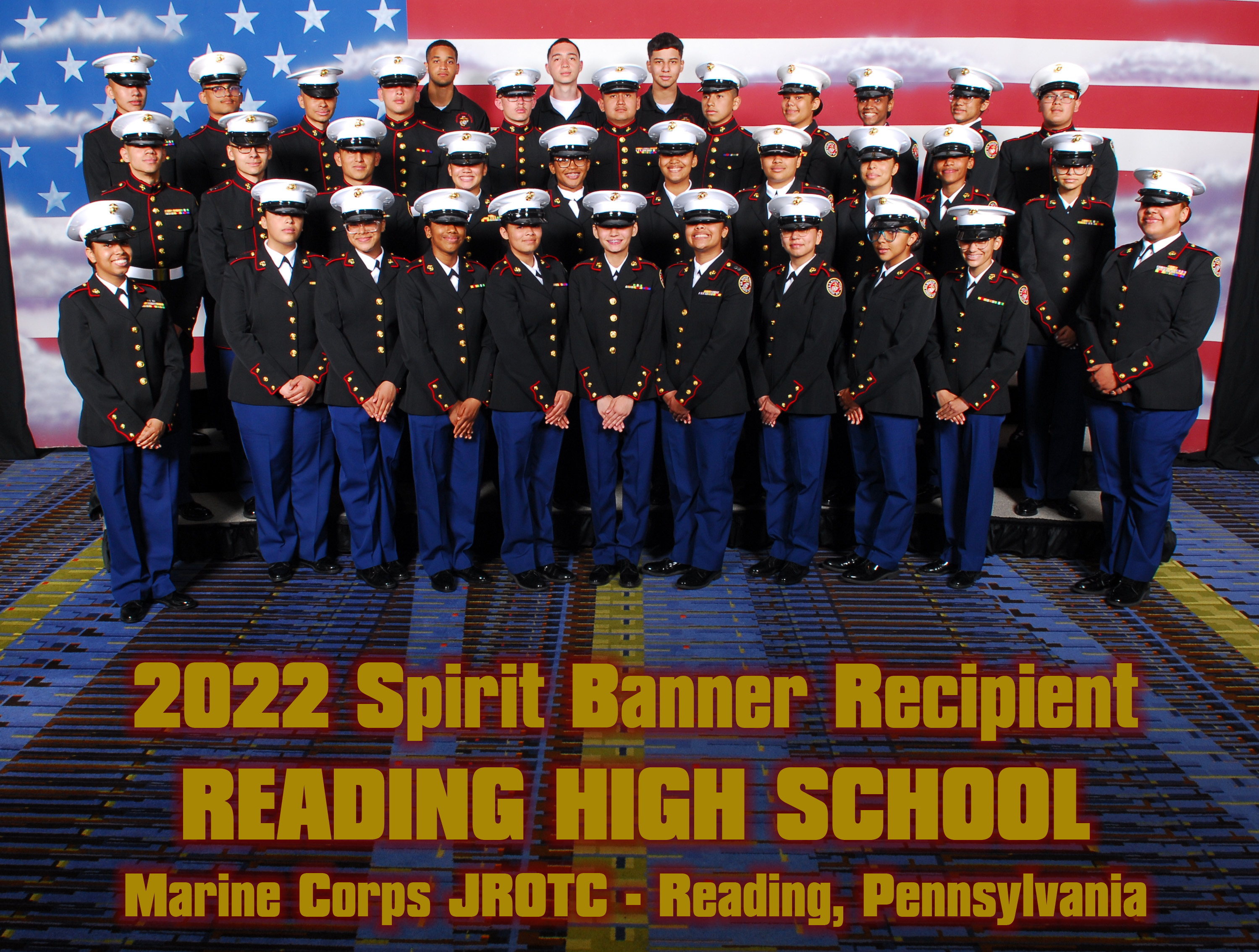 The 2022 Spirit Banner presentation was made by Sports Network International Client Relations Supervisor Ms. Jennifer Ladd (left) during the Nationals closing night Awards Ceremony. Is a powerful moment every year and no team looked more shocked and humbled than our 2022 recipient.
For the second consecutive year, the choice for the Spirit Award recipient came a week before the event and a single school was settled upon by all. When the staff of Sports Network International was polled to describe the Marine Corps JROTC program from Reading High School in Reading, Pennsylvania, you get a variety of responses...and when someone utters, "Classy", everyone nods in agreement...everyone.
The program didn't win this award through their drill prowess though they are always competitive wherever they go. Always prepared, they attend drill meets to include the National H.S. Drill and always do their best. They represent their school and their program with purpose. They seem to display at all times they understand that conduct on and off the deck is as important as the final scoring.
The program glorifies the Nationals in actions and deeds, serving as amazing ambassadors for the finest drill competition in the world and everywhere else they compete. The program is led by the kind of instructors who ask how you are doing and wait for the answer. They take the time to have a great conversation about their kids, their program, the differences that have been made. If one of the ladies in the SNI office helps them with a sticky issue, don't be surprised if they show up at event registration with a small cluch of flowers or some other small item and a sincere thank you. Like we all said, C-L-A-S-S-Y!
EVERY JROTC IN THE PAST FEW YEARS HAS FACED ADVERSITY but Reading JROTC seems to have embraced facing everything head-on. But that is how they always seem to deal with any of their issues over the years. Is there a problem? Well, let's see how we can solve it. Covid slowed them down. Travel issues slowed them down. Funding slowed them down. But little can ever stop them. They just do not QUIT!
What an honor to select this fantastic group of people as our 2022 Spirit Award winner!