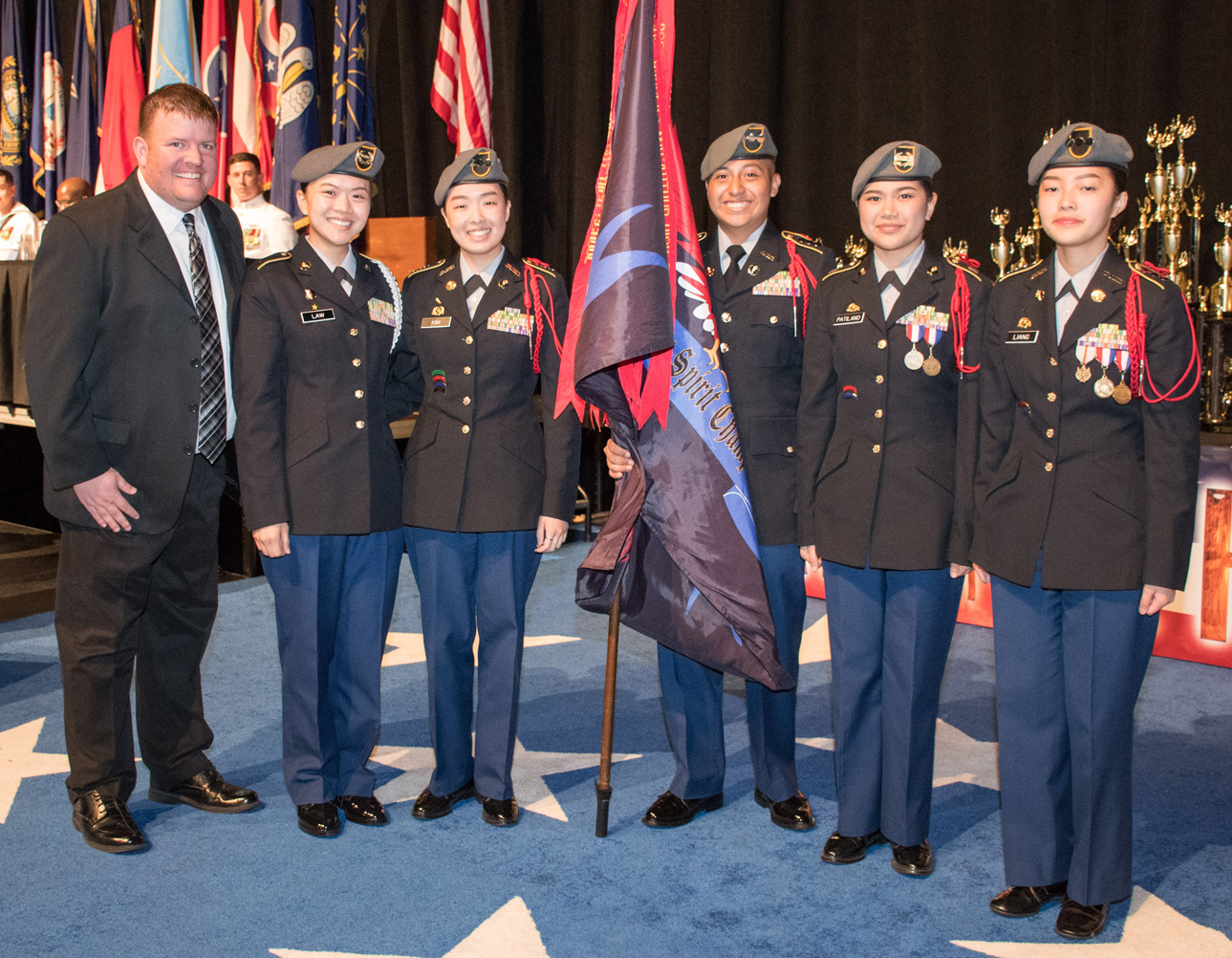 2018 Spirit Award Banner presentation made by M. Keith Warren (right) at the Nationals Masters Level Awards Ceremony is received by (left to right) Annie Law, Lisa Kim, Miguel Caro, Ashley Patilano and Yiling Liang. The senior leadership cadets show above represent one of the largest Junior ROTC programs in America. The exceptional Army Junior ROTC program at Francis Lewis High School in Fresh Meadows, New York excels in multiple activities. With nearly 800 JROTC cadets involved in their program, this intense academic institution is involved in so many activities and community service events, they have cadets and instructors that often go 7 days per week in many different directions. The obstacles they face are enormous and not easily solved, often requiring ingenious methods to seemingly stretch time and space. They practice most of the time in a low ceiling cafeteria. The have so many kids in the honors and AP program, they often have few that can handle the rigors of a nationally ranked drill & ceremony unit leaving the teams with very small numbers. This program has earned their one-year reign and permanent battle streamer in front of 3,000 spectators at the National High School Drill Team Championships Masters Level Awards Ceremony in sunny Daytona Beach, Florida.
The Patriot Guard (Armed) and Patriot Pride (Unarmed) drill programs under the direction of MSG Larry Badia (armed team) and 1SG Elizabeth Simmons (unarmed team) have continued a beacon for excellence that began over a decade ago. With a distinctive style and precision hard to parallel, the team fought off several other considered schools and was a unanimous Spirit Banner selection this year! They maintain amazing conduct in and out of the drill arena and have done nothing but glorify themselves and the Nationals in everything they do.
The streamers you see at the top of the staff list the names of the previous winners of this award. We at Sports Network International are honored to present this banner to a single school each year that exemplifies the greatest ideals of JROTC on and off the competition floor. To learn more about the Spirit Award, please click on the links above.