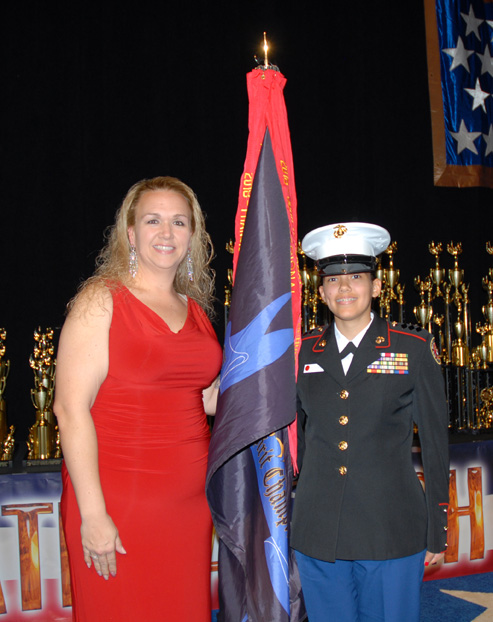 The 2019 Spirit Banner presentation shown above was made by Sports Network International Client Relations Supervisor Ms. Jennifer Ladd (left) during the Nationals Masters Level Awards Ceremony. Is a powerful moment every year. This year, receiving theis prestigious award is Cadet Commander, c/Colonel Mirelys Feliciano, from the Marine Corps JROTC powerhouse unit of Lynn English H.S. from Lynn, Massachusetts. These bulldogs are just that - tenacious, powerful and loyal! This exceptional USMC JROTC program has been attending the Nationals for WELL over a decade. They always come fully prepared and give maximum effort competing to the best of their abilities without complaint or excuses. Despite often facing small and not so small obstacles that would flatten a lesser program, this hard-charging program ALWAYS has a kind word and time for those that wish to learn from their efforts, and they assist other programs often. Attending the event from a modest-sized town from over 1,200 miles away, the task is daunting. But these amazing kids make it happen annually.
The program glorifies the Nationals in actions and deeds, serving as amazing ambassadors for the finest drill competition in the world and everywhere else they compete. When a Marine Corps program contacts SNI and asks if there is a program that that has been attending a while that they could talk to, SgtMaj. Kenneth Oswald would be our go to call. Fortunately for the program, they are surrounded by other AWESOME JROTC programs which makes their competitions fierce. They have competitive fire but they always maintain their decorum and understand they are representing more than themselves in their desire to win. This program has earned their one-year reign and permanent battle streamer in front of 3,000 spectators at the National High School Drill Team Championships Masters Level Awards Ceremony in sunny Daytona Beach, Florida.
The streamers you see at the top of the staff list the names of the previous winners of this award. Click above on the link to see who has previously won this award. We at Sports Network International are honored to present this banner to a single school each year that exemplifies the greatest ideals of JROTC on and off the competition floor in victory and defeat. To learn more about the Spirit Banner, please click on the links above.