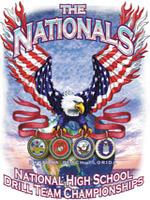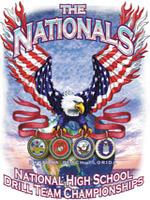 NHSDTC
SPIRIT BANNER
HISTORY
"How did the Spirit Award Banner Begin?"

The Spirit Award Banner was originally begun in the Winter of 2001 at the urging of Mr. Abdul Al-Romaizan, past competitor at The Nationals with Valley Forge Military Academy and long-time supporter and benefactor of the National High School Drill Team Championships. Mr. Al-Romaizan proposed the general concept for the Spirit Award. He understood that those schools who were committed to excellence on and off the drill floor, who support and uplift the goals and ideals of the NHSDTC year-round, and who can triumph over adversity to maintain team strength deserbe special recognition as their positive influence on the event is deserving of special recognition. It was his vision and influence that led Sports Network International to approve of the concept and implement the award for the 2002 event.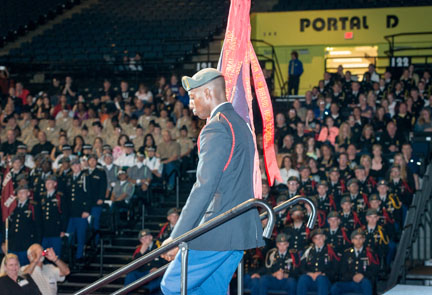 Mr. Al-Romaizan then graciously designed the beautiful logo the banner maintains, and then donated the funds for the purchase of the banner, staff, and base that comprise the award. But most of all, his vision was the most important aspect of his early involvement.
The Spirit Award underwent a major modification in 2005 when the annual winner of the award was better glorified with the addition of the winning school name and year battle streamers affixed to the staff of the award when it is posted during the competition days at the Nationals. In this way, every attending school can readily see at a glance the school name and year of past Spirit Banner recipients.
We are honored to host this tremendous award. The winners annually exemplify what is right with Junior ROTC. The schools who have won this award annually represent schools that exemplify excellence and perseverance and in many ways, transcend the mere event drill trophies as their excellence is measured both on and off the drill floor. The lessons learned within Junior ROTC are exuded by those even considered for this award. It remains our highest team honor we bestow annually at the National High School Drill Team Championships. The parents, administrators, instructors and cadets should be justifiably proud of what they accomplish in winning this award.