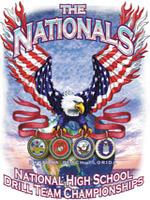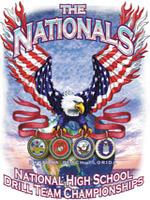 NHSDTC
SPIRIT BANNER
PAST RECIPIENTS
"Welcome to the Wall of Fame for the Nationals Spirit Banner!"

2002 - Coventry High School - Air Force JROTC - Coventry, Rhode Island

Led by hard-charging MSG Dick LaBel, Coventry High School is a proud holder of the first-ever Spirit Award. Little did MSgt. LaBel realize his long-time efforts in the greater New England drill community would eventually lead him to a place in the National Drill Hall of Fame! The long-time attendance at the Nationals and other drill events is strewn with victories and other top finishes in all categories and all levels of the event. The program has been a fantastic leader setting the standard for drill excellence across the northeast. A constant top placement among the all-service Southern New England Drill League schools (a collection of program that give prestige and structure to drill that they helped to found), the Falcons drill team denoted excellence on all levels, on and off the drill floor. More important than their on-the-drill-floor success, they are widely recognized as one of the finest overall Air Force drill programs in the Eastern United States with a disproportionately high number of their cadets going on to service academies and other lofty institutions of high learning. The one constant is that the parents, cadets and instructors are quick to assist the team in all avenues and have proven to be outstanding ambassadors of the National High School Drill Team Championships wherever they go.
2003 - Bethel Regional High School - Army JROTC - Bethel, Alaska

Making the trip to the Nationals from far away is always tough but Bethel, Alaska! WOW! Major Bailey spearheads this tiny Army Honor Unit in the middle of Alaska and has helped to give this program world-wide recognition. Bethel Regional High School is surrounded by high unemployment and other social issues that present extreme hurdles to success. This program does not allow these issues to stand in their way. Having walked their campus, the cadets have little but give everything they have into everything they do (which is all that is ever asked of them!). Many of their cadets wait by the front door of the practice area every morning and they have to be kicked out the door each evening as their dedication to excellence has been engrained deep within their being. With just a few miles of paved roads in the town and single digit hours of daylight and temperatures that peek on a good day at 30-degrees during many months of the year, this program continues to put forth the type of effort and results rarely seen at this level even with more privileged programs. The Warriors drill team remain a shining example of what can be accomplished through fantastic leadership, hard work and diligence, regardless of the obstacles facing any program.
2004 - Springfield High School - Army JROTC - Holland, Ohio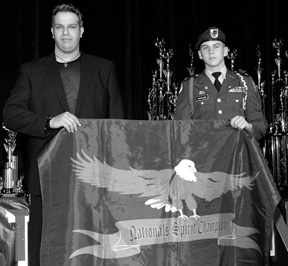 The death of a valuable instructor is never easy and the 2003 passing of long-time drill legend Major John Gardiner left the entire school community in an emotional wreck. Lesser programs would have folded up shop and simply decided to go through the motions and end the year quietly. Not Springfield H.S.! Despite multiple SAI's and numerous changes to the program, this past-National Champion Army unit worked extra hard in tribute to their fallen leader and competed with honor and distinction at the 2004 Nationals. years earlier has seen this always prepared program gain multiple top finishes and even a National Championship in the 1998 drill year in the Alternative Arms Division with their Grenadiers unit. Their success often caused the entire building to pause and watch their always high flying exhibition routines. While the level of success on the drill floor has cooled, their program still serves as a major beacon within the Ohio region and their constant and unwavering support of the Nationals and frankly all things drill remains a testament to their constant and unrelenting pursuit of excellence despite any obstacles that are placed in their path. Their total team efforts were a true inspiration to the staff of SNI and to everyone who has ever known the irreplaceable and much loved spirit of Major John Gardiner.
2005 - Marmion Academy - Army JROTC - Marmion, Illinois

Sometimes, a program comes around that is just so inspirational and outstanding that you can't contain yourself. As a relative newcomer to the Nationals, Marmion Academy has embraced the event with a gusto rarely seen. Their parent support of the program is legendary with their boosters having a fervor few can match. Having personally been on their campus and meeting the cadets and instructors first-hand, there is no finer group of young men embracing the JROTC ethic that the Flannigan Rifles of Marmion Academy. Too often, those with limited insight would believe that because this school is not economically challenged that they don;t face many hurdles on route to attending and competing with distinction at the Nationals. This could not be further from the truth. The hurdles they face are many, with amazingly rigorous course loads that could shut down a drill program at a lesser school. Their positive comments and constant support of the NHSDTC event are so heartfelt and honest throughout the entire region, they are a group that absolutely makes the event better simply by their attendance each and every year. They compete with honor and class throughout the central region of the United States. Their success on and off the drill floor is a tribute to the cadets of the program, as well as to their leader, SAI Major John Geisel. The future looks bright for this unit and a string of top finishes in the future would not surprise anyone who follows the Nationals.
2006 - Rahway High School - Marine Corps - Rahway, New Jersey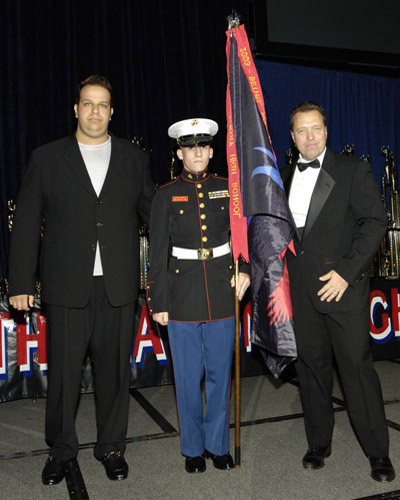 Nestled in a blue-collar town just outside New York City, these hard-chargers continue to be a recruiting poster for all that is RIGHT with Junior ROTC. The hurdles they face are constant and never-relenting but they are NEVER allowed to become something that is a barrier to excellence! With a dynamic leadership duo in place and a clear vision of what they want to accomplish, Rahway annually puts forth a supreme effort in any task they choose to master. Years of top finishes were finally pinnacled in 2008 when the Devil Pup drill team captured the coveted Demilitarized Arms Division National Championship at the Nationals. Not long after, SNI worked with the Walt Disney company to have the program featured within the movie Major Kelly" where they displayed their trademark excellence for the world to see on the big screen. They dominate drill competitions locally with a spirit and intensity that seems to rivet the attention of those coming to watch and are always in contention for excellence at the Nationals. While MCJROTC instructors SgtMaj. Henry and MSgt. Mintz constantly deflect all the credit to the cadets, without question it is their love and commitment to this youngsters that remains the driving factor why Rahway high school can never be counted out of the Championship chase. Self-effacing but fiercely competitive, this leadership style translates to the cadets being better citizens and better people long after their drill days are gone, as these girls and boys grow to become men and women.
2007 - Flour Bluff High School - Navy - Corpus Christi, Texas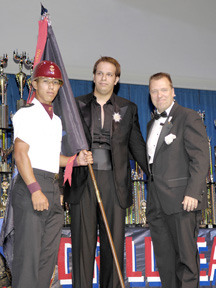 Likely one of the most misunderstood programs in the JROTC nation, Flour Bluff HS is widely recognized as the finest all-around drill program in the country. However, their drill excellence often overshadows the multitude of talents, community service, academic and generally all-around excellence this program continues to produce off the drill deck. Producing fantastic all-around citizens after high school is the goal of all quality programs and Flour Bluff does that finer than most any comparable program in the nation. Drill is simply a tool to instill the work ethic, discipline, leadership, and competitive fire that will bring forth quality post-high school young men and women and the Sea Devil and Seahawk drill teams have been doing this for years! Community service, academics and mentorship are all huge parts of the program that has made them a fixture of excellence in the south Texas school district they dominate off and on the drill deck. Coming from a very humble populous and not a huge number of cadets to draw from, people expect little until they see the ethic of the program and how they build excellence in all they do. This lack of hype often leaves unknowing outsiders to believe the program as one-dimensional, but this is hardly the case. CDR Armando Solis is an exacting, passionate and driven leader that shuns boisterous promotion of the program or himself, and this trickles down to the self-effacing and amazingly approachable cadets her produces year in and year out. They remain a credit to both the Nationals ansd the drill world they dominate with regularity, having won their Area 10 Navy Academic, Athletic and Drill Championship for as long as we can remember! We at SNI remain in awe of their overall excellence. The Spirit Banner has no better home than in south Texas in the year 2007!
2008 - Winter Springs High School - Army - Winter Springs, Florida

The saying goes that, "A team plays as a coach coaches" and this is never been more true than watching the businesslike approach that emanates from Florida drill icon Winter Springs HS in Winter Springs, Florida. This Army JROTC program has DOMINATED Florida Army drill since the doors of the school opened roughly a decade ago. But excellence has followed SAI LTC John Bennett as he founded the Winter Springs program, bringing the many championships he earned at nearby Lyman HS throughout the early 1990's. This program had all of the many growing pains you can imagine that starting any new program can do but no obstacles stood in their way to producing one of the top schools in the nation in overall achievement on and off the drill floor. A constant supporter of the goals and ideals of the Nationals, his cadets are a constant source of support for the program on and off the drill floor as they are very well-rounded. A rigorous, multi-faceted program in a very competitive school district, LTC Bennett and Sgt. Victor Frasqueri work tirelessly to help their student athletes in all facets of their lives. This work has forged a bond between the program and the community that is unbreakable and speaks volumes about the amazing nature of this program and it's high place within the administration, school board and all levels of the school district. There is no finer representative that can carry the banner of Spirit Awards recipient.
2009 - James Madison High School - Army - San Antonio, Texas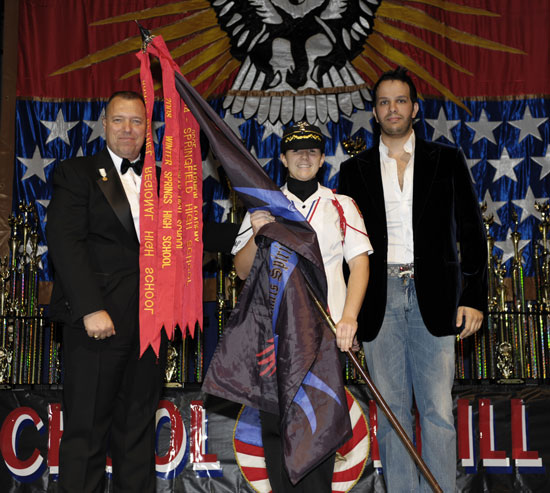 While many schools were considered for the award in 2009, the actual decision was very easy due to the overwhelmingly positive manner in which this program conducts business, the historically solid drill finishes during the past decade, the top-quality cadets that have moved into top colleges, and especially due to the unparalleled positive example and mentorship that the instructors have provided their cadets in and out of the classroom. Having a JROTC program in the highly competitive state of Texas brings with it many challenges and hurdles. In many ways you are in a fish bowl 24/7 and everyone can sense that in most everything you do. There are many examples of this and this only adds to the pressure-cooker drill mystic of San Antonio, Texas. Despite all of that, this program holds their own and excels in numerous areas. The JMHS instructors led by SAI LTC Amador Cano and the long time drill guru MSG Xavier Sandoval both do their job and live their lives in a way that exemplifies sacrifice, commitment and excellence in all they do. The Maverick Guard and Lady Maverick Guard gain more than their share of trophies, but the way they conduct themselves on and off the drill floor is the overwhelming reason for their selection. The SPIRIT BANNER LIVES ON in 2009 at James Madison High School!
2010 - Grant High School - Army - Dry Prong, Louisiana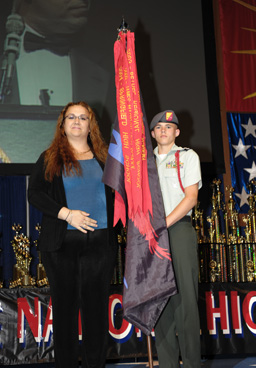 From incredibly humble surroundings and without a large number of kids to draw from, the Maroon & Gold Drill Team from Grant High School has made a name for themselves nationally for the past five years. Taking the nation by storm by capturing the Western Region Army Championships title a few years back, the fine program has continued its path to excellence. But their drill team is only the most recognizable aspect - it does not define the program. Along with one of the finest overall drill & ceremony programs in the nation, the program consistently graduates cadets with higher GPA than the overall student body, as well as sending many youngsters to college and other lofty endeavors through their work in the program (despite their limited resources). What is so striking about this small program (only 700 cadets in the entire school) remains the business-like way they approach everything they do without a lot of bluster but WITH a lot of results! This is a direct reflection of the no-nonsense methods employed by the two NCO's running the program (1SG (Ret) Jim Tadayeski & 1SG (Ret) Douglas Smithand). They demand respect by giving the same. They set standards of excellence in all they do and the cadets are far better for their involvement, often attaining heights in life none could gave dreamed of years before. This program accomplishes goals few other schools their size dare to dream! The program brings class to any event they attend and their parents are super-supportive and understand the values this amazing program gives their children now and long-after they have left high school.
2011 - Ronald Reagan High School - Army - San Antonio, Texas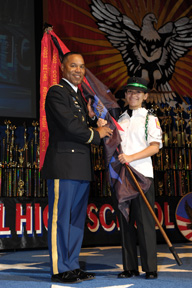 Sometimes, you don't know a good thing until it is gone. For years, the fantastically talents cadets from Ronald Reagan H.S. took a backseat to nobody and earned more than their share of drill trophies on an annual basis. However, when their leader took a promotion as the Director of Army Instruction for the entire school district and a new leader came on board, everyone held their breath to see how much of a hit the team would take. The team was devastated and decimated after just one year. With that, LTC Paul Loveless returned to the school he helped to put on the National map of drill. The team was shaken to the core yet LTC Loveless worked tirelessly to regain the magic that was the Rattler Guard (Armed) and the Diamondback (Unarmed) drill teams. Despite obstacles and hurdles that would have derailed a lesser unit and years of struggle, the Reagan talent was rekindled in the drill Mecca of San Antonio, Texas. As they often say, "A team plays as a coach coaches" and at Reagan, this is a truism as LTC Paul Loveless provides positive leadership, strength and fair, even-handed support of all who work hard and play by the rules. He understands the value that drill provides to the young men and women in his programs, extending far beyond the paved practice areas that take up thousands of hours of cadets free time. His work with thousands of past cadets shows a bevy of success stories in all walks of life that only happens by understanding, patience and hard work. It remains a high honor for SNI to be associated with this fine program.
2012 - Douglas MacArthur High School - Army - San Antonio, Texas

While every team at almost any level if forced to face adversity and must overcome at some point in the pathway to excellence, the 2012 Blue Guard and Blue Angels drill units from Douglas MacArthur H.S. gave this phrase a whole new meaning. A report blasted across the internet just weeks before many of the biggest Spring drill meets were to be held. Allegations of improper conduct and behavior by cadets and instructors alike at this Mecca of drill excellence left virtually everyone connected to the program with a sense of shock. The driving force of the team, 1SG Steven Chavan as well as LTC Robert Blake were placed on paid leave while the allegations were investigated thoroughly. Having the unenviable position was "the new guy", SFC Carlos Rochin who was not new to drill by any means but with tensions high, the team and all concerned were placed in a very high pressure situation. SFC came out of retirement to provide stability and oversight, putting his hand on the tiller expertly but it was not known how the cadets would respond on the drill floor to such a massive shake-up. Using the allegations as a motivator, the team worked largely independently and feverishly to impress their former instructors. When the competitions were held, the teams were able to not only qualify from Texas to attend the Army Nationals, but win both the Armed & Unarmed Championships at this prestigious event, and then go on just weeks later to BOTH finish in the top few slots against the best drill teams from all services in the world! The intensity, loyalty, determination and never-say-die attitude of the men and women on these two amazing drill teams could not have been more on display nor inspirational. We at SNI salute these youngsters and the entire program from Douglas MacArthur HS as the 2012 Spirit Award winner at the NHSDTC.
2013 - Hubbard High School - Army - Chicago, Illinois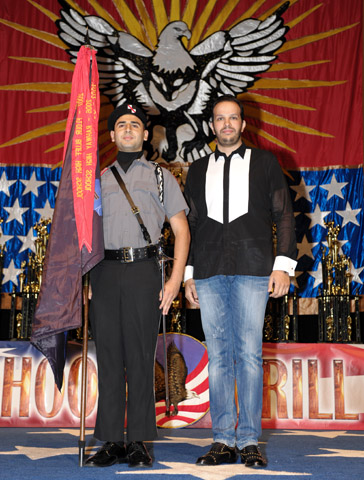 The 2013 Spirit Award selection of Hubbard H.S. was not as much about overcoming adversity as it seemed every Army program faced tremendous adversity when the USACC was forced to reclaim promised travel funding from the units with no notice less than a MONTH before the start of the 2013 Nationals! The Hubbard program has long been thought of by most impartial observers as the finest in the city of Chicago and one of the 2-3 best in the entire state. This is for numerous reasons but their JROTC program does two things exceptionally well and these two things highlighted the logic for why they were selected: 1) They use drill as a tool to get the best out of their cadets during and after their involvement with the program; keeping many at-risk kids on track to not only graduate high school, but do so with exceptional grades, learned skills, and extra-curricular accomplishments and 2) They are outstanding ambassadors of drill who always have the best interests of their kids, their program and the NHSDTC firmly in mind! They have probably made bigger in-roads in spreading the word about the benefits of the Nationals and drill in general than any team we have ever encountered. LTC John Wargo as the SAI of the program has been a big supporter of drill and the Nationals for over a decade. His program continues to flourish and the judges have certainly taken notice of the recent improvements to the overall talent of the program. The team has ALWAYS been stellar off the drill floor and LTC Wargo has always been counted on provide insight and feedback into all aspects of drill and the Nationals experience. SNI remains honored to be associated with this fine program and welcome them into the exclusive Spirit Award family.
2014 - West Creek High School - Army - West Creek, Tennessee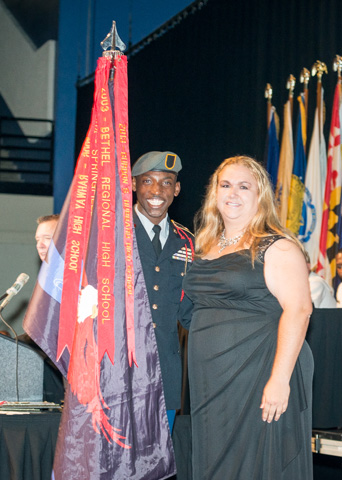 The 2014 Spirit Award selection of West Creek H.S. was one that had built for several years, nominated and strongly considered in 2013, the juggernauts from the Volunteer state just had too much momentum for excellence to be denied in 2014. What were their strengths this year that put them over the top? Let's start with a gung-ho program that works on ALL FACETS of JROTC excellence. Their drill program has started to make a name for themselves Nationally after several years of rising success locally in top Brigade level finishes. Their Raider team is again gaining strength annually. Their instructors deal with their cadets teaching them life lessons constantly in and out of the competition arena. And their teachings are often found simply from modeling the excellent leadership and role model behavior displayed in and around the cadets. Their advance prep work is exceptional and they heavily involve the cadets in even many of the smallest details of every trip, thus allowing them to learn many life lessons (which IS the purpose of JROTC - building better citizens. They have an aura of inclusion that bleeds down to ensure every cadet knows if you put in the effort, the sacrifice and the hard work, no matter what limitations or handicaps may stand in your way, you get a fair shot at success in their program. No artificial or real barriers slow these hard chargers down. The entire program promotes excellence in all they do and they are unparalleled ambassadors of what Sports Network International is trying to accomplish through the many events we host. SNI remains hugely honored to have this programs as the standard bearer for the next year as the NHSDTC Spirit Award winners.
2015 - North Miami Beach Senior High School - Army - N. Miami Beach, Florida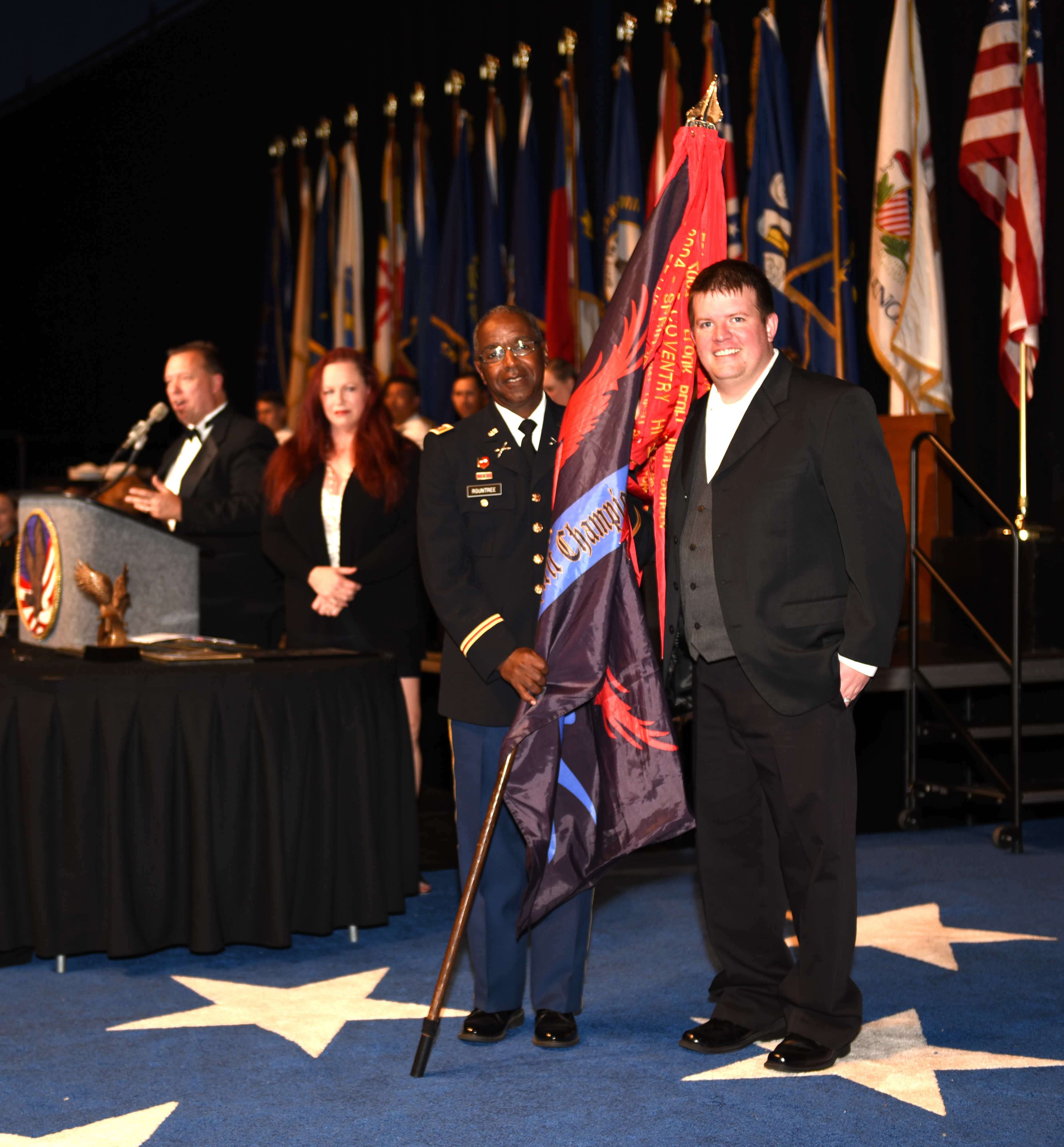 The 2015 Spirit Award choice of North Miami Beach H.S. had to occur at some point! They had been nominated and discussed for five straight years./ They were several people's FAVORITE choice and for some reason, they simply always seemed to be the bridesmaid. But in 2015, it was unanimous! After years of National excellence on the drill floor largely on the Unarmed side of the house through the Lady Chargers, this year the Armed Chargers drill team began to push their weight around and show the world at the Army National Championships and then at Daytona how well rounded their drill program has become. Major Michael Roundtree, the dynamic, hard-charging Senior Army Instructor of the program has always been a favorite son of the event and was specifically call by name to come forward to receive the award on behalf of his fine program. His teams are always well prepared win or lose and are nothing but helpful and great ambassadors of the Nationals. The program is not in a wealthy area and faces many challenges each year but they constantly have found a way to overcome anything that is put in front of them to give their young men and women the most fantastic, well rounded JROTC program found anywhere. SNI has been honored to host this programs at the Nationals for over 15 years and could not think of a finer choice to carry the moniker of the NHSDTC Spirit Award winner.
2016 - John H. Reagan High School - Army - Houston, Texas

The 2016 Spirit Award recipient of John H. Reagan High School was an unusual choice because they have attended the Nationals event for years, have always been considered for the award, but the circumstances they saw during the 2015-2016 drill season made this a unanimous, first-ballot, "everyone nodding in agreement" selection! The Rough Riders under the direction of 1SG Michael Anderson have been a focus of excellence for several years. They have always reached out to the surrounding schools and discussed the benefits of competition drill in general and what a trip to the Nationals can do to bolster your program and the cadets long after they are gone from the program. After very serious personal medical issues knocked the gregarious leader of the drill team down several years back, the program has come back with a vengeance several years later and in 2015 finally captured their first ever National Championship within the Mixed Division of the Masters Level competition. But 2016 brought forth challenges that had never been experienced by this stalwart program - challenges that would have certainly knocked down other programs and could have done so to this program without shame. So despite a flood that caused the the majority of their JROTC rooms to flood and become badly water damaged with standing water for weeks, causing tens of thousands of dollars in damage and affecting their use of the facility nearly all school year, they pushed on! This, along with other factors led to the very real possibility the team would not be able to return this year to defend their title. But after long conversations with the administration, SNI and the cadets, they simply refused to let this stop them! They attended and competed with honor again proving the lasting benefits gained from competing at the Nationals are not the trophies and accolades, but the struggle to succeed! These young people remain some of the most dedicated, hard working cadets in JROTC and certainly one of the finest programs in Texas and across the country. SNI was honored on the Masters Level Awards stage to present the NHSDTC Spirit Award winner to Houston's finest JROTC program!
2017 - Airport High School - Army - West Columbia, South Carolina

The 2017 Spirit Award was a really tough call between six different high quality schools. Each has an illustrious history of glorification of JROTC, drill and the Nationals in specific. But when this school name came out, everything seemed to align, discussion stopped and all involved seemed to say, "well, we are done here...great choice". From humble beginnings with a drill program that was barely known outside their county, Airport High School has grown every year to now be mentioned with the few dozen of the finest military drill and ceremony programs in the nation. Having attended the Nationals now for over a decade, the program has been the Army state champion since 2011 and have not looked back growing in stature and talent every year. Winning has now become a tradition for the Golden Talon, Mighty Eagles and Eagle Guard Drill Teams. Look no further for the excellence than the person who has personally resurrected the drill program, CSM (ret.) Harry Furguson. He has used him vast knowledge and tapped the knowledge surrounding him to push his cadets to greatness. But there is no magic formula. "One of our mottos in JROTC on the drill team is, "If you want to be a champion, you got to practice until you can't get it wrong, says CSM Ferguson. Watching the team perform it is obvious this is the standard, but watching them OFF the drill floor, you can easily see that larger lessons are learned outside the drill world. The team remains exceptional ambassadors for both the Army and JROTC in general. Focused, driven and dedicated to excellence both on and off the drill floor, the cadets are involved in NUMEROUS activities that better their school and their community. But their primary beacon of light remains their drill team. SNI was honored on the Masters Level Awards Ceremony stage to present the NHSDTC Spirit Award to the pride of the Carolinas...one of the finest Army programs anywhere! Seeing them proudly posting the Spirit Banner while they compete at local, regional and service championship event further displays the pride the team takes in all accomplishments. Here's to you Airport, long may you reign!
2018 - Francis Lewis High School - Army - Fresh Meadows, New York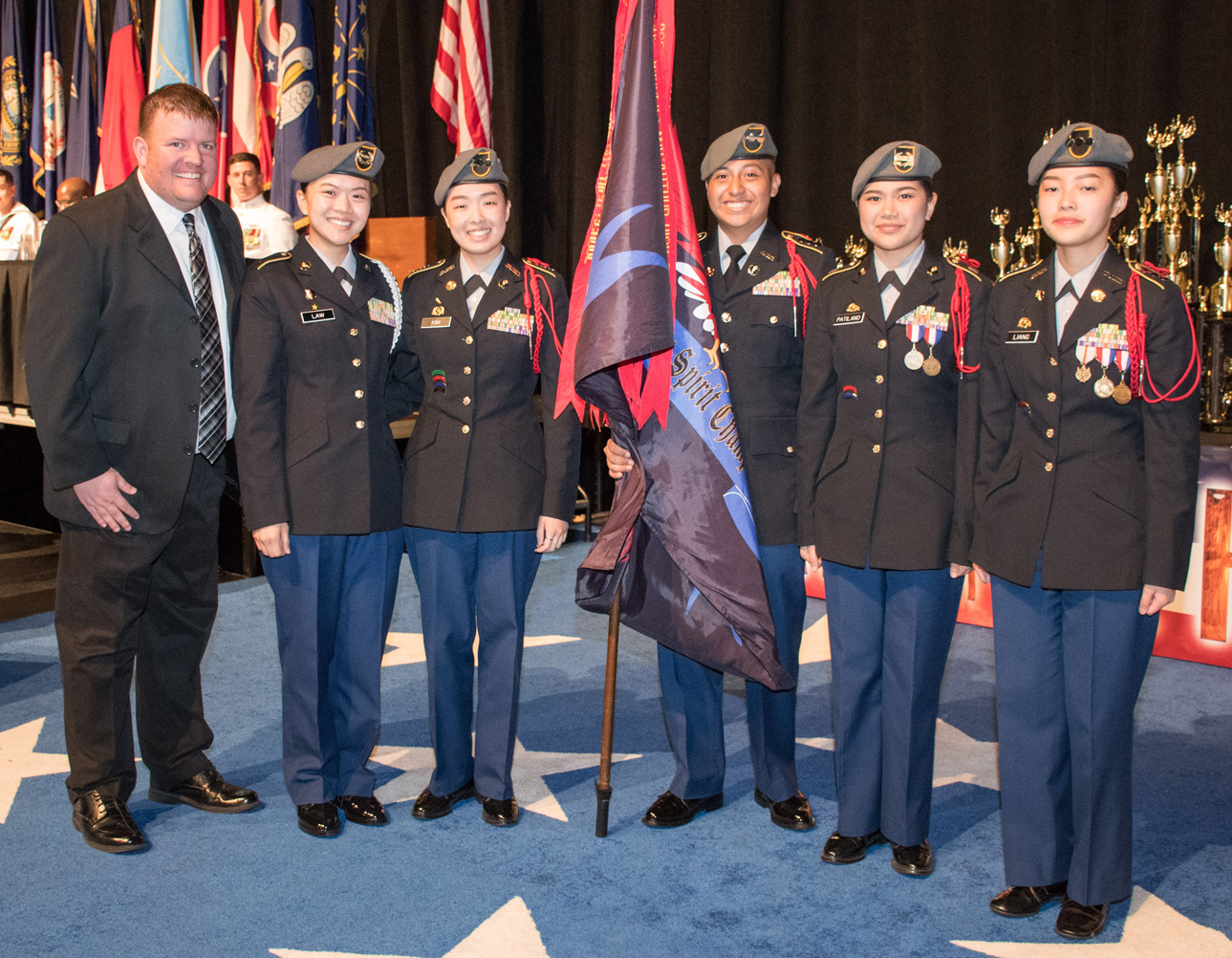 2018 Spirit Banner winner Francis Lewis HS was another tough choice. The Army JROTC program is one of the largest Junior ROTC programs in America. They excel in numerous activities in and out of the drill world. With nearly 800 JROTC cadets involved in their program, this intense academic institution is involved in so many activities and community service events, they have cadets and instructors that often go 7 days per week in many different directions. The obstacles they face are enormous and not easily solved, often requiring ingenious methods to seemingly stretch time and space. They practice most of the time in a low ceiling cafeteria. The have so many kids in the honors and AP program, they often have few that can handle the rigors of a nationally ranked drill & ceremony unit leaving the teams with very small numbers. This program has earned their one-year reign and permanent battle streamer in front of 3,000 spectators at the National High School Drill Team Championships Masters Level Awards Ceremony in sunny Daytona Beach, Florida. The Patriot Guard (Armed) and Patriot Pride (Unarmed) drill programs in 2018 under the direction of MSG Larry Badia (armed team) and 1SG Elizabeth Simmons (unarmed team) have continued a beacon for excellence that began over a decade ago. With a distinctive style and precision hard to parallel, the team fought off several other considered schools and was a unanimous Spirit Banner selection this year! They maintain amazing conduct in and out of the drill arena and have done nothing but glorify themselves and the Nationals in everything they do.
2019 - Lynn English High School - Marine Corps - Lynn English, Massachusetts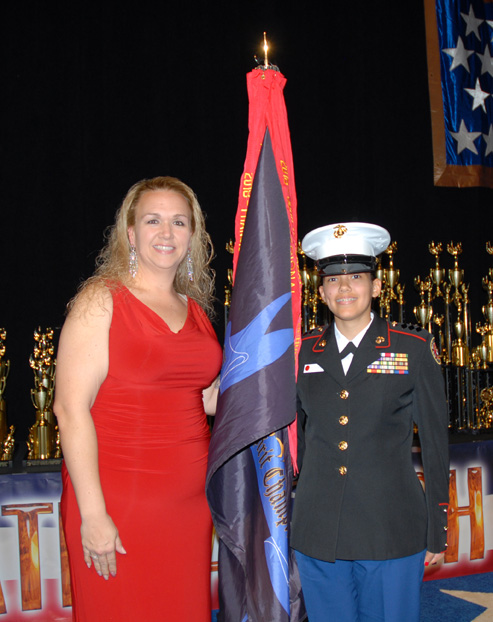 2019 Spirit Banner recipient Lynn English HS stood out as the top choice this year in a way few others have. They were so CLEARLY the right choice. Hurdles? They have them. Slow them down? Not a chance!. These bulldogs are just that - tenacious, powerful and loyal! This exceptional USMC JROTC program has been attending the Nationals for WELL over a decade. They always come fully prepared and give maximum effort competing to the best of their abilities without complaint or excuses. Despite often facing small and not so small obstacles that would flatten a lesser program due to both their great distance from the event and their many multi-faceted cadets that often have simultaneous items pulling them in various directions at the end of the school year, this hard-charging program ALWAYS has a kind word and time for those that wish to learn from their efforts, and they assist other programs often. Attending the event from a modest-sized town from over 1,200 miles away, the task is daunting. But these amazing kids make it happen annually. The program glorifies the Nationals in actions and deeds, serving as amazing ambassadors for the finest drill competition in the world and everywhere else they compete. When a Marine Corps program contacts SNI and asks if there is a program that that has been attending a while that they could talk to, SgtMaj. Kenneth Oswald would be our go to call. Fortunately for the program, they are surrounded by other AWESOME JROTC programs which makes their competitions fierce. They have competitive fire but they always maintain their decorum and understand they are representing more than themselves in their desire to win. This program has earned their one-year reign and permanent battle streamer in front of 3,000 spectators at the National High School Drill Team Championships Masters Level Awards Ceremony in sunny Daytona Beach, Florida.