ALL-SERVICE JROTC
RAIDER NATIONAL
CHALLENGE CHAMPIONSHIPS "Where the BEST Raider teams MEET to COMPETE!"

Official Sponsor:

Official Local Sponsor

of the Raider Nationals!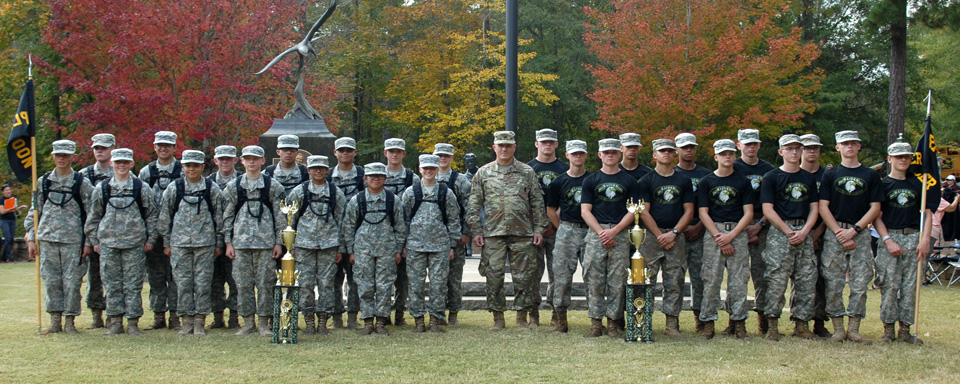 Army JROTC teams did well with the JV Raider team from Riverside M.A.(right) in Riverside, Georgia taking the Male Division
Overall Challenge Championship and the hard chargers from Smith-Cotton High School in Sedalia, Missouri grabbing the Mixed
Division Overall Challenge Championship. Pictured center is Keynote Speaker U.S. Army COL Mike Stinnett, JROTC Director from Ft. Knox,
Kentucky who presented all the event trophies! Top finishing ARMY schools from this event will be moving up to the Army Championships next year.

CONGRATULATION TO THE MANY SCHOOLS WHO COMPETED WITH HONOR AND DISTINCTION AT THE RAIDER NATIONAL CHAMPIONSHIPS!
All-Service Main Scoring Page
Raider Complete Results

Special thanks go out to the Georgia National Guard whose gracious sponsorship of this worthy Raider
event allows the finest trophies in Raider competition anywhere to be distributed at this fantastic event.
The entire competition would not be possible without their solid, steadfast and longtime support.

Additionally, the event would have nowhere near the same impact or big time feel were it not for the


heavy involvement of the U.S. Army Cadet Command throughout the weekend to include this event. Their
sponsorship of the U.S. Army National Raider Championships the following two-days makes this all-service
Challenge Level championship event special for Army teams as well as other JROTC teams across the nation.


To the Raider Challenge Main Page