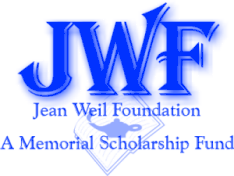 Jean Weil Scholarship
Financial Contributors &
Historic Founders
"Without the Early Pioneers, the Scholarship May Have Remained a Dream"
Several major corporations and other well-known groups were involved in the initial growth of the JKW Scholarship and without their early support, the scholarship may never have taken shape. Several are still involved to this day and are making significant financial and logistical contributions to the Jean Weil Scholarship Program. While each of these entities have maintained a low-key approach to their involvement, we would like to take a moment to recognize their efforts and thank them for their donations and their support of this worthwhile program over the years. Their continued support keeps these scholarships alive to deserving youngsters each year. The major contributors are listed below in alphabetical order.
Abdul Al-Romaizan - Trying to define Abdul in one paragraph is like trying to hold back the tides -- it's just impossible! The most devoted military drill aficionado walking the planet, Abdul devotes countless hours to one of his many passions -- armed exhibition drill. One of his most noted accomplishments is The Drill Jungle, the world's preeminent military drill website. Filled with history, biographies, legendary videos, chat areas and other interesting items, the site is awe-inspiring as one of the most elaborate web designs and layouts ever produced. This makes The Drill Jungle a "must-see" for those elite armed drillers who love exhibition drill. A natural extension of his love for drill is his involvement with the Jean Weil Scholarship Fund. I can call Abdul amazing, brash, insightful, complex, and a few other adjectives, but I most enjoy calling him a friend and huge supporter of all aspects of the National High School Drill Team Championships.

Brian Done - The drill world has a silent hand of friendship in this amazing individual. As a former member of the Junior ROTC community as a cadet, then as a former active-duty Army soldier, and now as a civilian, Brian has helped to forward the efforts of Sports Network International and the Jean Weil Scholarship for almost a decade. He often states that Junior ROTC helped to make him the man he is today. As a long-time sponsor of the JKW Scholarship and the Nationals in general, Brian has assisted teams in attending the Nationals and has sponsored many aspects of the event over the years. His love of Junior ROTC and the Nationals makes him a huge friend to the drill community.

Pearson Publishing - Pearson Custom Publishing is a division of Pearson Education. It is one of the world's leading textbook publishers including Prentice Hall, Allyn & Bacon/Longman and Addison Wesley/Benjamin Cummings. Our special thanks go out to Mr. Mark Loechel of Pearson Publishing for all of the coordination he provides in the scholarship arena to the JKW Foundation. Both Pearson Publishing, as well as AMS listed above remain the original donors that began the Jean K. Weil Foundation. Without their initial support back in 2001, this fantastic scholarship may never have taken flight!

Marion Military Institute - MMI is synonymous with excellence in education for over 100 years. Known for their unique educational opportunities including their Early Commissioning Program which allows qualified candidates the opportunity to obtain their commission in the Reserve Forces in just two years along with their Service Academy Program that currently boasts a mind-boggling 83% success rate in matriculating cadets into the service academy of their choice, MMI is a fantastic fir for the right cadets. Marion has always been a cadet-first facilitiy and they have for years put the cadets first at the Nationals through their involvement with the JKW Scholarship.