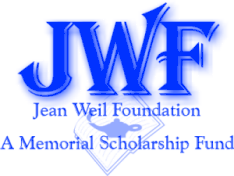 Most Frequently Asked Questions Regarding the...
Jean K. Weil Foundation
Cadet Scholarship Fund
"Helping the Dream of Higher Education Become a Reality"
QUESTION #1 - I've never heard of Jean Weil -- who is she?
Jean Weil was the co-founder of Sports Network International and passed away in 1999. She was the heart behind the Nationals. Jean was a graduate of the school of hard knocks as she had to leave high school to help support her family in Oklahoma. Her life was a constant pursuit of learning and mastering everything she could get her hands on. She was a sensitive and reserved woman with a remarkable ability to make everything she touched more beautiful. She always admired those with the opportunity to achieve a college degree and often wished she had the chance to pursue a higher education. These scholarships will be awarded in her memory
QUESTION #2 - Who is Eligible to apply for the Jean Weil Scholarship?
Any graduating, college-bound high school senior attending an accredited, four-year college/university on a full-time basis who will be attending the National High School Drill Team Championships is eligible to receive this award. Specific entry criteria are as follows:
Must be currently enrolled in at least 2nd year of JROTC.
Minimum G.P.A. of 3.0.
Minimum SAT of 980 OR minimum ACT of 19.
Letter of recommendation from senior instructor and one other (non JROTC) teacher or school administrator.
Application must include photo in uniform, copy of transcript, and completed application form.
Application must include essay (minimum of 500 typed words) on "What have you learned about leadership and how would you use this scholarship and these skills to make your mark in the world?"
Application must include either 1) Letter of intent to apply to a specific college/university; or 2) Letter of acceptance from your chosen college/university
QUESTION #3 - How can I Apply for the Scholarship?
All cadets applying for this scholarship must be nominated by their senior instructor in writing, as well as maintain a letter of recommendation from at least one other faculty or school administration member. So the best answer is to ask your instructor if he or she would consider nominating you for the scholarship and then work like heck to put together all of the items called for within the application.
QUESTION #4 - Can I submit parts of my scholarship package as I get these items from these various sources?
No, you must submit in ONE package the ENTIRE scholarship application. scholarship application. Cadets will also write on a topic to be selected by the scholarship board members. Lastly, a "head & shoulders" photograph of the cadet in uniform is submitted along with the other items outlined.
QUESTION #5 - What are the qualities looked for in the top cadets?
While every board member has their own personal preferences on what a top cadets brings to the table, Most would agree that cadets seeking this scholarship should be very active on their drill team, well-rounded, well-spoken, and possess solid writing skills. Cadets are best served with high academic credentials (both on their high school transcripts and on standardized, college test scores). Letters of recommendation are given solid weight, as well as the written answer the cadet provides as the topic chosen by the scholarship board.
QUESTION #6 - So should cadets with a less-than-perfect SAT score apply, or is it a waste of my time?
In fact, this is in many cases the LEAST influencing factor to many board members! While a solid transcript and board scores are important, efforts and position on the drill team, as well as the numerous other factors outlined within the scholarship package seem to be the keys to a good overall scholarship ranking.
QUESTION #7 - When do I have to have the scholarship package completed and turned in?
Cadets mail their completed application packets in to SNI NO LATER THAN THE END OF FEBRUARY each year. The specific date is found within the NHSDTC entry paperwork within the School Folder mailed to every attending school.
QUESTION #8 - What are the specifics of the scholarships?
Two scholarships are awarded each year. Currently, the scholarships are worth $1,000 each. While not a tremendous amount of money, the prestige of being selected for a scholarship among a field of so many talented young men and women should be the goal of every hard-charging JROTC cadet. These scholarships can be used to help defray the high costs of college, including but not limited to: books, room or tuition.
QUESTION #9 - What exactly is the process to determine who receives the scholarship?
The scholarship packages from every cadet are photocopied and then supplied to each of the members of the Scholarship Review Committee. (NOTE: If a board member has a cadet from their school in this selection process, they are removed from this portion of the selection). Each of these Review Committee members independently review the entire package for each cadet and produce a score for each package, ranking each cadet in order from top-to-bottom. These scores are then submitted to SNI and compiled from each board member. The five cadets with the top aggregate scores are then selected to move into a final phase of the scholarship -- participation within an on-site interview with a single member of the Scholarship Review Committee.
The slates are wiped clean and the on-site interview will then determine the two scholarship winners. The interview is 15-20 minutes in length. This one-on-one interview will allow the Committee member to gain a more in-depth view of each applicant. Questions on virtually any topic may be asked. Generally, cadets may be asked questions surrounding their background and family situation, high school experiences both in and out of JROTC, world affairs questions, along with their goals and aspirations for the future. This is not a "needs" based scholarship, however questions surrounding financial means may be asked.
QUESTION #10 - My school would like to nominate three cadets -- is this possible?
No, under no circumstances may any school nominate more than two cadets
QUESTION #11 - Do the cadets have to be one male and one female?
Absolutely not! Schools may nominate two males, two females or one of each. Also, schools may also just nominate a single cadet if they wish.
QUESTION #12 - As a winner of this scholarship, do I get the scholarship every year or is this just for my freshman year?
Currently, this scholarship is a one-time award. As the scholarship fund continues to grow, we hope to have this scholarship grow in both the amount awarded and to become renewable every year by the winner while in good standing at their educational facility.
QUESTION #13 - Do I have to be on the drill team?
Scholarship applicants MUST be on the drill team/color guard. Final interviews are conducted on-site at the Nationals with cadets who are competing at the Nationals on the drill team/color guard.
QUESTION #14 - After I have submitted my application package, how can I find out if I have been selected as a finalist for the on-site interviews?
All cadets submitting a valid application will be mailed a letter from SNI outlining their status on April 15th. To learn prior to the receipt of this letter, simply check the sni website where the five scholarship finalists will be posted by 12 noon on April 15th.
QUESTION #15 - I will likely receive an appointment to a service academy - am I still eligible?
ABSOLUTELY! Books cost money too as you will soon find out! Seriously, there is no limitation on any college bound cadet applying.
QUESTION #16 - Who do I contact if I still have questions?
If you have any questions, or need further information regarding this scholarship or the National High School Drill Team Championships, please contact JKW Board Member at Sports Network International.

Site updated CONSTANTLY by Justin Gates - Sports Network International