LOCAL HOTEL INFORMATION
These properties have been specially selected because they offer strong value for the cost
and they are generally located in easy proximity to the Ocean center Arena
(sorted by cost)
STANDARD PROPERTY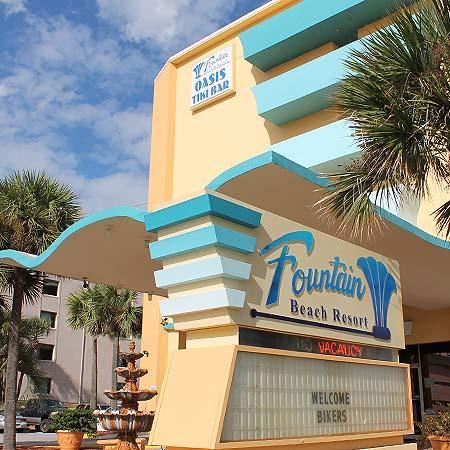 Fountain Beach Resort
313 South Atlantic Avenue Daytona Beach, FL, 32118 - Reservations: call 386/255-7491
Rooms available at $89+tax for Street View & $99+tax for Oceanview Rooms, 1-4 occupancy. Oceanfronts & suites higher.
No other resort fees or parking fees of any kind are charged.

The hotel is in easy walking distance to the Ocean Center, near the Boardwalk. Fountain Beach Resort has an outdoor pool, a spa tub, and a fitness center. Wireless Internet access is complimentary in public areas. This beach condo offers a restaurant and a poolside bar that is lots of fun. A minimal complimentary breakfast is available. Additional amenities include laundry facilities, complimentary newspapers in the lobby. Self parking is complimentary. This is a smoke-free property. On a budget, this is a fun and reasonable place to attend the NHSDTC! All rooms open to balconies. The 80 air-conditioned guest rooms at Fountain Beach Resort include coffee/tea makers and ceiling fans. Televisions are equipped with cable channels. All units have kitchenettes with microwaves and refrigerators. Housekeeping is offered daily. Tropical setting on the no-drive zone of "The World's Most Famous Beach,"
TO RECEIVE THIS RATE, CALL AND USE THE CODE "THENATIONALS"
Total Est. Time to the Ocean Center by Car: 3 minutes / Total Est. Distance: .59 miles
---
MIDRANGE PROPERTY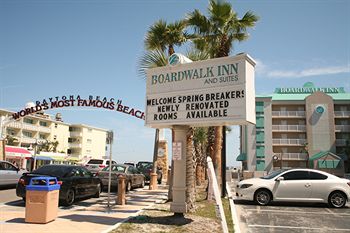 Boardwalk Inn & Suites
301 S Atlantic Avenue, Daytona Beach, FL, 32118 - Reservations: call 386/253-8300
Rooms available at $99+tax (SUN-THUR) and $119+tax (FRI-SAT), 1-4 occupancy. Oceanfronts & suites higher.
No other resort fees or parking fees of any kind are charged.
Hotel is in easy walking distance to the Ocean Center, very near the Boardwalk. Hotel is Ideally situated where International Speedway Boulevard ends and the beach begins. This Daytona Beachfront Hotel provides spectacular views, spacious guest rooms and suites and countless amenities. They are so close to the beach that they are literally the last building on the street. Hotel is just two long blocks from the Ocean Center. All of the rooms feature a refrigerator, microwave, 32-inch HD TV, coffee maker, and hair dryer. Also, property-wide free Wi-Fi is included. Hotel has a huge pool deck, pool bar and numerous other indoor and outdoor amenities. They offer a variety of accommodations including six room types to meet every need and budget. Property offers a HOT FULL BREAKFAST as well.
TO RECEIVE THIS RATE, CALL AND USE THE CODE "THENATIONALS"
Total Est. Time to the Ocean Center: 3 minutes / Total Est. Distance: .54 miles
---
LUXURY PROPERTY

Wyndham Ocean Walk
300 North Atlantic Ave. Daytona Beach, FL 32118 - 1 block North of the Ocean Center
Reservations: toll-free at 1-800-347-9092
ROOM RATE: $155.00 - $359.00 + 12.5 % tax, 1-BR up to 3-BR condos
THREE NIGHT MINIMUM STAY REQUIRED
When you stay at Wyndham Ocean Walk, located on a beautiful stretch of pedestrian-only beach and a part of the 80,000 square-foot Ocean Walk Village complex, it is like two vacations in one: a retreat that is within walking distance of the most popular entertainment choices and activities Daytona has to offer. At Wyndham Ocean Walk, our spacious 1, 2, 3, and 4-bedroom vacation suites comfortably sleep 2 to 14 guests from 579 to 2570 square feet. Whether you are traveling with extended family or a smaller party, you will appreciate the privacy of separate bedrooms, the economy of a fully equipped private kitchen and the convenience of a washer and dryer in each suite. Plus, a Whirlpool tub, full dining room, leather furniture and televisions throughout are luxuries you just won't find in an average hotel room. Enjoy the sites off of your private balcony as you relax in this beach home away from home!
TO RECEIVE THIS RATE, CALL AND USE THE CODE "JROTC NATIONALS GROUP"
Total Est. Time to the Ocean Center: 1 minutes / Total Est. Distance: .5 miles
---
OTHER RECOMMENDED HOTEL OPTIONS


Hotels.com
The site favored by millions for on-line hotel booking. Thousands of hotel rooms through the entire Daytona Beach area. Simply click on-line and book your rooms directly through Hotels.com. I HAVE FOUND THEIR SERVICE TO BE EXCEPTIONALLY GOOD and the deals you can often get are unsurpassed!
---
GET YOUR BOOKING DONE EARLY AS THE TOWN FILLS UP FAST FOR THIS HUGE EVENT!
All rates listed are exclusive of room taxes. All questions about any of these properties should be directed to the hotels directly. This page is presented strictly as a service. All rooms are first come, first served. Each of these hotels are eager for your business -- please call them today to gain additional information and to reserve your rooms!
For specific directions and locations for the above properties, you may go to the website for each of the above listed hotels. To get driving directions and helpful maps of the area, use MAPQUEST to see a street map of the Daytona Beach general area.

to the NHSDTC Homepage