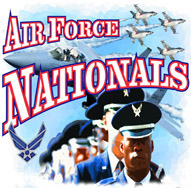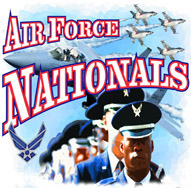 2023
U.S. Air Force JROTC
Open Drill Nationals
Final Results Page
---
EVENT SCORING FROM THE AF NATIONALS
FROM DAYTON, OHIO


See the BEST drill training & entertainment videos all in one location!

THE ALL-SERVICE NATIONALS VIDEO LIBRARY
Past and present videos, training materials seminars and more!

MAJOR CONGRATULATIONS GO OUT TO ALL SCHOOLS!
Remember the two overall top finishers in both the
ARMED & UNARMED DIVISIONS maintain a GUARANTEED ENTRY SPACE
and a PREMIUM DRAW SLOT should they choose to advance this Spring to
compete in the NATIONAL HIGH SCHOOL DRILL TEAM CHAMPIONSHIPS!

Sports Network International would like to congratulate all of the schools for their aim high spirit for competing within the Air Force National JROTC Drill Championships event. Bringing this high-caliber event to so many locations across the country has been quite an undertaking. SNI has been overwhelmed by the positive response by the teams and have been contacted by numerous teams looking for information already on future events! Your motivation and drive are exceptional and thank you for allowing us to meet you in your areas of the country - it has been a memory our staff will not ever forget!
Official
Drill & Ceremony Supplier
of the Nationals!

SERVING JROTC SINCE IT BEGAN!

For color guard gear, rifles,
uniforms, flags, and all of
the equipment you need to be
your best, go with the pros!
Best customer service anywhere.

WHERE ALL-SERVICE PROGRAMS
END THEIR SEASON IN STYLE!

For Drill Programs of ALL Talent Levels
Who Want to Compete in the Big Show!
Does your school have an:
ATHLETIC TEAM?
RAIDER TEAM?
FITNESS TEAM?

Click the logo above for
complete event information!


Please send suggestions, information or questions to:

Sports Network Int'l Competition Director
388 Muddy Creek Lane - Ormond Beach, Florida 32174
800/327-9311 - 386/274-1919
---
Please feel free to read the SNI Policies regarding this event and the internet world here at Sports Network International.
Copyright 1997 - Sports Network International.
All rights reserved. Any and all duplication, publication or use of any materials from this site
without written permission of Sports Network International is strictly prohibited by law.