2019 INDUCTEE OF THE MILITARY DRILL HALL OF FAME
SGM John Gissel and the Flannagan Rifles Drill Team

Sergeant Major John Gissel is a 1969 graduate of Marmion Military Academy. He entered the United States Army in January of 1971 and served 26 years on active federal military service in the Infantry Branch. As a former Drill Sergeant, coming back to teach at Marmion in August of 1996 and instantly becoming the coach/moderator of the Marmion Academy drill team was a kind of dream come true for this drill lover.
Sergeant Major Gissel SGM Gissel took his tough, no nonsense drill training approach and has parlayed that by using a strong motivational style to power the Marmion Academy drill team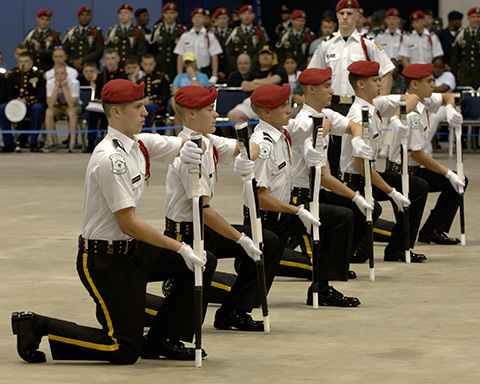 to national prominence without parallel now for over two decades. His drill cadets learn far more than drill as the team learns much from the senior leadership. SGM has developed a culture of excellence that will likely carry on even after he departs - the most telling aspect of a great leader found in few programs nationally. His program has won over fifty regional drill competitions across a four state area during his tenure. He has also led the team in capturing the U.S. Army National JROTC Drill Championships twice and gained a coveted National Runner-up title at the National High School Drill Team championship, along with countless event championship trophies competing against the best all-service JROTC units in the nation.
With a style that is not even attempted with large-scale copying due to the complexity and talent needed to display it, the Flanagan Rifles have led the way in military drill & ceremony across the midwest. Their name is synonymous with high flying, high risk (but high reward) rifles flying Demilitarized exhibition fun! The team has constantly innovated and introduced new complex rifle maneuver and marching formations and transitions never before seen in the world of competition drill. Anything less is simply not Marmion drill.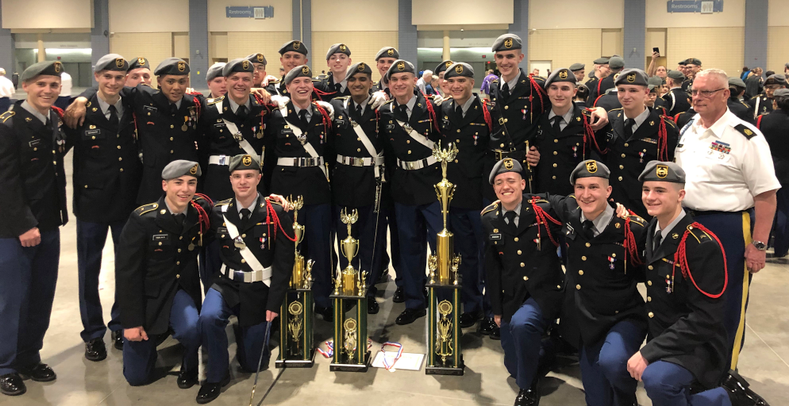 Their boys have also annually made a dent in the overall solo & dual exhibition world, consistently gaining medal round and top placements in these best-of-the-best cadet showcase events. With the vocal support of other cadets and their rabid parent base, this unit deserves all the cheering.
As a leader, SGM Gissell has gotten the most out of "his boys". Their performances at Nationals and other drill competitions throughout the midwest have become legendary show stoppers often defining the word showmanship without the use of a dictionary. SGM Gissel is large and in charge make no mistake yet seems to ensure the cadets understand this is a cadet led activity yielding much of the spotlight and notoriety to his cadet leadership at all times. Yet he is always there, pushing and correcting, looking at the finer points to make his team great. He is a role model for excellence to his cadets and every one of them love the intense passion he maintains for the team and what they accomplish under his watchful eye. It is with great pride on the eve of the retirement of SGM Gissell that the DHoF can recognize BOTH this amazing man and his amazing drill program.