SNI has produced this information to better allow parents and others looking to support the fantastic young men and women of the Navy Nationals by attending the Navy Nationals as a spectator. All schools looking to improve their drill team or just to cheer on some of the finest all-around Navy JROTC teams in the world are strongly encouraged to attend. The rules listed above below are in effect for the entire base and that includes the Navy Nationals event. By following these rules, we can all be welcome visitors to the base AND we can ensure all spectators are allowed on with minimal issues.
Below, you will find EXACTLY what you will need to do to enter the base. Please follow these items to the letter and you will have no issues at all.

NAS Pensacola's Main Gate (Navy Boulevard) is open to all employees, military and DoD cardholders, as well as previously vetted personnel who possess a valid visitor's pass. Therefore, their entry will be uneventful and will require no advanced work. However, base access for all NON-DoD CARD HOLDERS as outlined above will require advanced work outlined below.
ALL NAVY NATIONALS PERSONNEL WITHOUT DoD ISSUED ID CARDS (military, etc.)
WILL BE REQUIRED
TO UNDERGO AN ADVANCED VETTING PROCESS TO OBTAIN A TWO-DAY PASS TO ENTER THE BASE
DURING THE NAVY NATIONALS. THERE ARE NO EXCEPTIONS TO THIS POLICY WITH THE EXCEPTION
OF YOUNGSTERS UNDER THE AGE OF 18 WHO WILL ENTER THE BASE WITH AN ID HOLDING ADULT.
NJROTC INSTRUCTORS WILL BE ALLOWED TO ESCORT THEIR TEAM BUS WITH PARTICIPATING CADETS,
CHAPERONES AND BUS DRIVER ABOARD NAS PENSACOLA USING THEIR MILITARY ID CARD.
THOSE ADULTS WHO BELIEVE THEY CAN DRIVE UP TO THE GATE IN A PERSONAL VEHICLE AND ENTER WITHOUT PROPER PRE-DONE VETTING
WOULD BE WRONG AND YOU WILL BE TURNED AWAY - DON'T LET THIS HAPPEN TO YOU!
RULES FOR BASE ENTRY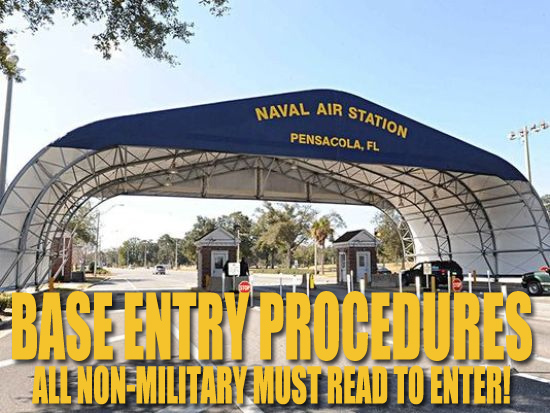 1. NJROTC INSTRUCTORS WILL BE DISTRIBUTING TO EVERY CADET a form to be copied and filled out by every adult planning to attend the Navy Nationals event. iN CASE YOU DO NOT RECEIVE THIS, please read these detailed form instructions TO ENSURE YOUR FORM IS FILLED OUT CORRECTLY! This form must be filled out completely and returned back to the SNSI again for every adult planning to attend. These forms will be collected by the SNSI AND SUBMITTED in bulk for your school to the NAS PENSACOLA Base Security officials as soon as possible. Forms should be submitted for ALL THOSE WHO MAY BE THINKING OF ATTENDING!
2.
THOSE ADULTS ATTENDING FROM OTHER PARTS OF THE COUNTRY NOT WITH THE TEAM BACK HOME
or
THOSE WHO HAVE SOMEHOW BEEN UNABLE TO SUBMIT THE FORM THROUGH THE JROTC PROGRAM BACK HOME FOR HARDSHIP REASONS
will be able to submit the form directly to the NAS Pensacola Base Security. please ensure this happens no later than March 20th to ensure the base entry vetting will be completed in time. PLEASE NOTE: This is for the VERY RARE grandparent or other adult who does not live with the child yet wishes to attend and be a spectator. Please read these
detailed form instructions
THEN download, complete and email attach
this form
to BOTH thelma.wilson@navy.mil AND monty.shields@navy.mil for processing your pass (POC phone number (850)452-4153). You will then pick up your completed pass at the visitors center during normal working hours on your arrival day as outlined within the instructions.
3.
Those adults looking to bring any vehicle on base can do so BUT each vehicle entering the base will be required to obtain a vehicle pass.
Drivers must have a valid license, vehicle registration, and proof of insurance (printed, not displayed on a phone). This will be presented to the security gate where a pass will then be remitted for use during the Navy Nationals.
4.
All adults should be vetted, even if they are a chaperone on a charter bus THAT WILL BE BROUGHT IN UNDER THE MILITARY CARD OF THE SNSI
. For example, if the instructor and cadets are dropped off, then some of the parents want to go back to off-base lodging, they would need to be vetted to return to NAS Pensacola if they were not in the company of a DoD ID Card holder. For this reason, it is strongly advised that ALL ADULTS ATTENDING THE COMPETITION be vetted and receive their pass.
5. On Thursday the day prior to the event start, the schools will send the SNSI to pick-up all of the passes for all of the parents during normal working hours. tHESE WILL THEN BNE DISTRIBUTED TO THE PARENTS TRAVELING WITH THE TEAM. Those parents NOT traveling with the team must get their pass from the NAS Pensacola Base Security post during normal working hours. PLEASE NOTE: The DoD does not recognize all driver's licenses/ID's from the following states due to their non-compliance with the Real ID Act: Missouri, Illinois, Minnesota, Washington and New Mexico. Guests who possess an ID from one of the aforementioned states that are not Real ID compliant (not labeled as such and no hologram). At the guard gate the following day(s), the visitor MUST show another form of ID (i.e. passport, social security card, birth certificate, etc) to gain access to the base.
YOUR COOPERATION WILL ENSURE A SAFE, SMOOTH PROCESS - THANK YOU FOR THE
EXTRA EFFORT YOU WILL DO TO KEEP THE HOME OF THE NAVY NATIONALS SAFE!
---
Send Information, Suggestions or Questions regarding ENTRY PROCEDURES to:
- Sports Network International

10 Broadcreek Circle / Ormond Beach, Florida 32174 / 386/274-1919
This site has been designed to be best viewed at 800x600 with 32-bit color for photos