We at Sports Network Int'l gets a few telephone calls each Fall from highly concerned programs planning to attend some post-season football event they found on the internet held during the Thanksgiving Weekend, and they hope we can help. They can't get through to the competition, number has been disconneted, etc. The problem is, they have not registered to attend OUR football competition and we have no connection to these pop up event! Websites often make events seem huge and impressive but often the reality of what you receive in the weeks or months leading up to the event can be quite disappointing. The event is usually much smaller than purported (usually due to the number of teams that just fail to show up!) or have other huge issues that jeopardize the ability to have a safe and enjoyable experience (NOTE: to best keep this from happening, read the NYFC FAQ thoroughly!).
Some events even position themselves so similar to the decades old and well respected NYFC competition that it does cause confusion from many teams thinking they have entered the National Youth Football Championships. In fact, a few people have called us simply looking to speak to ANY HUMAN BEING because they have "called and called XXX tournament and they can never get anyone to call them back" and they are simply hoping we can help. While we do try to help these people in any way that we can, unfortunately our company has no connection to any other events and there is little we can do to assist you when these problems occur.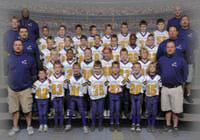 Every year, we get to hear the heartbreaking stories of competitions that cancel in the weeks just preceding the event. This often leaves the attendees with non-refundable plane tickets, hotel reservations, and certainly dozens of heartbroken youngsters who were set on traveling to end their season. Or just after the event, we get the troubling stories of horrible mis-matched teams due to smaller tournaments trying to squeeze together teams for play that have no business being in the same field with each other. While all of these stories come to us 2nd hand, their sheer number lends credence to the validity of these tales.
Traveling hundreds of miles to a distant city can be unnerving enough but doing so with little or no event confirmation paperwork in hand and a nagging suspicion something is "just not right" is downright foolish. Regardless of what information proves true or false, it certainly appears that teams who have prepared to attend any competition that does not bear the name NATIONAL YOUTH FOOTBALL CHAMPIONSHIPS should do so by ensuring they follow their gut instinct and make sure that the event is fully organized and ready to host your group and others that will plan to attend.
Often each Fall, as these events draw near, SNI generally "cuts-off" registrations in late October to ensure a manageable, smooth competition field. However, because of these huge issues that teams seem to face every year (non-refundable bus & plane tickets, hotel reservation deposits paid, etc.), we often will EXTENDED our LATE ENTRY DEADLINE FOR AT LEAST a few more weeks for teams stuck in a true emergency situation.. We have done this for teams who believed they were attending the NYFC and really were not, OR they were thinking they are attending a football tournament in but now either cannot be sure the event includes their team or they are just plain afraid to come to town and face a situation they feel is hopelessly disorganized.
Therefore, if your team wishes to attend an event that has been held for almost FORTY years and run by the nationally recognized leader in youth sports competitions by the United States government; an event played at 1st class facilities with the finest local game officials with special training in youth football; if you want to play in an event where the players on every team are checked and verified before & during each game to ensure no local players magically "slip" into the games, then the National Youth Football Championships may just be worth the phone call for your football and/or cheer organization...
Regardless of what you do or where you go, we as always wish you good luck, good health and a positive, memorable experience. And mostly, thanks to all of you for what you do for these kids. The lessons they learn playing youth football in any solid, well coached program will carry with them long after their playing days are behind them.
Sportingly Yours,
The Sports Network Team